Experience the warmth of Potato Dumplings—soft on the inside, crispy on the outside—enhanced with aromatic coriander and a hint of red chilli.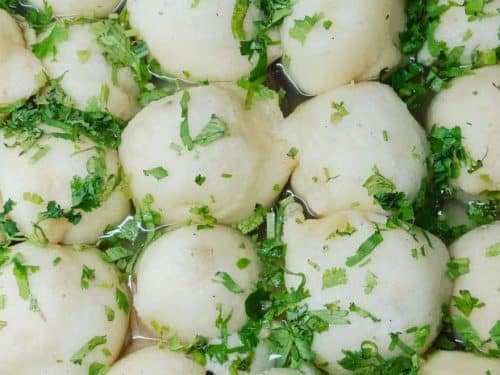 Potato Dumplings, a timeless comfort dish, brings together the humble potato and a few pantry staples to create an indulgent and versatile side. Picture soft, pillowy dumplings with a crispy exterior enhanced by the earthy aroma of coriander. Whether new to cooking or a seasoned chef, this recipe promises a simple yet satisfying culinary experience.
About the Recipe
This Potato Dumplings recipe is a celebration of simplicity and flavour. The mashed potatoes form a delicate base enriched by beaten eggs, plain flour, and a symphony of spices. Adding dried breadcrumbs provides a satisfying crunch, making each bite a delightful textural experience.
Why You Will Love This Recipe
Potato Dumplings offers a perfect balance of textures and flavours. The softness of mashed potatoes, the crispiness of breadcrumbs, and the aromatic hints of coriander create a comforting and indulgent dish. These dumplings will surely be a crowd-pleaser whether as a side dish or a snack.
Cooking Tips
To achieve the best results, ensure the potatoes are mashed thoroughly for a smooth texture. When forming the dumplings, aim for uniform sizes to ensure even cooking. Boiling the dumplings until they float ensures they're perfectly cooked inside.
Cultural Context
While Potato Dumplings have a global presence, variations of this dish are found in numerous cuisines. Whether you're enjoying Italian gnocchi or Indian aloo bonda, the essence of mashed potatoes transcends borders, offering a comforting culinary experience.
Serving and Storing Suggestions
Serve Potato Dumplings hot or warm, garnished with fresh coriander leaves. They are an excellent accompaniment to any meal, complementing vegetarian and non-vegetarian dishes. Store any leftovers in an airtight container in the refrigerator for up to two days.
Other Similar Recipes
Explore related dishes like Cheesy Potato Croquettes and Spinach-Stuffed Potato Balls for more delightful variations on the classic potato theme.
Nutrient Benefits
The potatoes in this recipe provide a good source of vitamins, particularly vitamin C, and potassium. Eggs contribute high-quality protein, making this dish delicious and nutritious.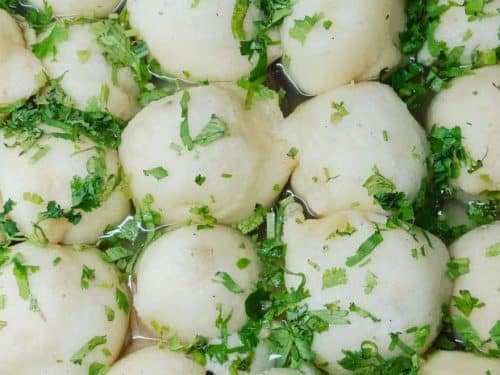 Potato Dumplings
Experience the warmth of Potato Dumplings—soft on the inside, crispy on the outside—enhanced with aromatic coriander and a hint of red chilli.
Ingredients
8

Potatoes - (boiled and mashed)

4

Eggs (beaten)

Maida (Plain Flour - 2 cups)

10

cups

Water

2

cups

Dried Breadcrumbs - 2 cups

2tsp

Black Pepper Powder - 2 tsp

Coriander Leaves (handful, finely chopped)

Red Chilli Powder (as per taste)

Salt (as per taste)
Instructions
Boil, peel, and mash the potatoes thoroughly.

Transfer mashed potatoes to a large bowl.

Add beaten eggs, plain flour, dried breadcrumbs, black pepper powder, coriander leaves, and red chilli powder (if using) to the mashed potatoes.

Mix the ingredients well to form a dough.

Shape the dough into small or medium-sized balls.

In a pot, bring water to a boil and add salt.

Place the prepared potato balls into the boiling water and cook until they float to the top (approximately 10 minutes).

Drain the water and transfer the dumplings to a serving dish.

Sprinkle finely chopped coriander leaves on top.

Serve hot or warm as a delightful accompaniment to any meal.
Frequently Asked Questions
How do I prevent the dumplings from becoming too soggy?
Start with well-drained mashed potatoes and ensure the dumplings are thoroughly cooked. The crispy breadcrumbs on the exterior also help maintain the desired texture.
Can I freeze the potato dumplings for later use?
Yes, you can freeze the uncooked dumplings on a tray and then transfer them to a sealed bag once frozen. Cook them directly from frozen, adding a few extra minutes to the boiling time.
Can I customize the spices in the dumplings?
Absolutely! Adjust the spice levels according to your taste preferences. You can experiment with herbs like thyme or parsley for added flavour.
Are there other dishes I can pair with Potato Dumplings?
Certainly! Try pairing them with Creamy Mushroom Risotto or Grilled Chicken Skewers for a delightful meal experience.
How can I make the dumplings gluten-free?
For a gluten-free version, substitute the plain flour with a gluten-free alternative like rice flour or almond flour.