Traditional Italian Christmas eve dinner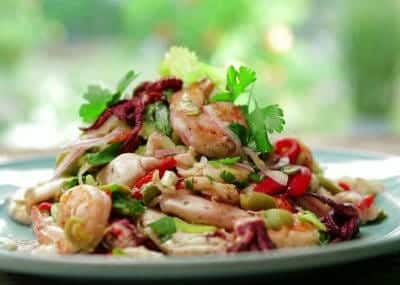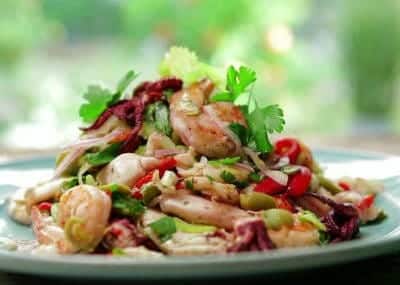 Ingredients:
Carrots – 1, large, peeled, sliced
Green Beans – 1 cup, trimmed, halved
Cauliflower – 1 cup, chopped
Potatoes – 1 cup, chopped
Green Capsicums – 1/2 cup, chopped (optional)
Dry White Wine – 1/4 cup
Fish Fillets – 1 cup, skinless, chopped
Shrimps – 1 cup, peeled, deveined
Clams – 3/4 cup, scrubbed
Lemon Wedges
Salt as per taste
Black Pepper Powder – a pinch
Coriander Leaves – few, chopped
For the dressing:
White Wine Vinegar (or plain vinegar) – 1 1/2 tblsp
Garlic – 1 clove, minced
Rosemary Leaves – 1 tsp, finely chopped
Zest of 1 small Lemon – grated
Salt – 1/4 tsp
Black Pepper Powder – 1/4 tsp
Extra-Virgin Olive Oil – 1/4 cup
Method:
1. Heat a pan of salted water over medium flame and bring to a boil.
2. Add the vegetables and cook for 5 minutes, until tender.
3. Remove and transfer the vegetables to a bowl. Do not discard the water.
4. Add the white wine to the water and simmer for a minute or two.
5. Add the fish fillets and cook for 5 minutes.
6. Remove the fillets and keep aside.
7. Add the shrimps and clams.
8. Cover the pan with a lid and cook until all the clams have opened and shrimps are cooked, about 5 minutes.
9. Discard any unopened clams and transfer the shrimps and clams to the plate.
10. Arrange the cooked vegetables on a large plate and place the seafood on top.
11. Mix all the dressing ingredients and whisk well.
12. Drizzle the dressing on top of the seafood.
13. Garnish with the lemon wedges and coriander leaves.
14. Serve.