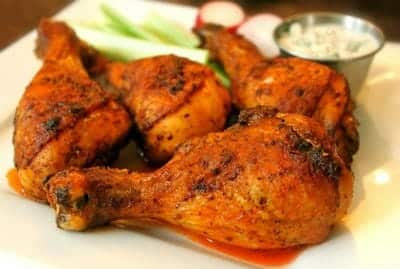 Ingredients:
Chicken Drumsticks – 5 to 6
Plain Yogurt – 1/2 cup
Lemon Juice – 1/4 tsp
Turmeric Powder – 1/2 tsp
Cumin Seeds – 1/2 tsp
Red Chilli Powder – 1/2 tsp
Garlic – 1 clove, finely chopped
Ginger – 1/4 inch piece, grated
Lemon Wedges – few, to serve
Method:
1. Combine the yogurt, lemon juice, turmeric powder, cumin seeds, red chilli powder, garlic and ginger in a bowl.
2. Make a couple of incisions on the drumsticks and rub the marinade all over.
3. Cover and keep aside in the fridge for 2 to 4 hours minimum.
4. Remove and transfer to a baking tray lined with parchment paper.
5. Place it in a preheated oven at 200C/400F and bake for 30 to 40 minutes, turning once or twice until cooked.
6. Remove and cool.
7. Serve hot with lemon wedges.
Note: image is for illustration purposes only and not that of the actual recipe.