The Chinese New Year is an important holiday in the Chinese calendar and it is an occasion of festivity and jubilance. It is the spring festival in China, an occasion for chucking out everything old and ushering in all new. It is an all round festival with a sumptuous dinner and delicious supper on the eve. A moment of family reunion and get together, the Chinese New Year is the longest festival, which brings fun, love, happiness and affection in the family circles. This year, it is considered as the year of the snake and according to the Chinese tradition, the snake is considered as a good omen and hence it is a time for the Chinese to celebrate the festival with grandeur, festivity, buoyancy, vigor and energy.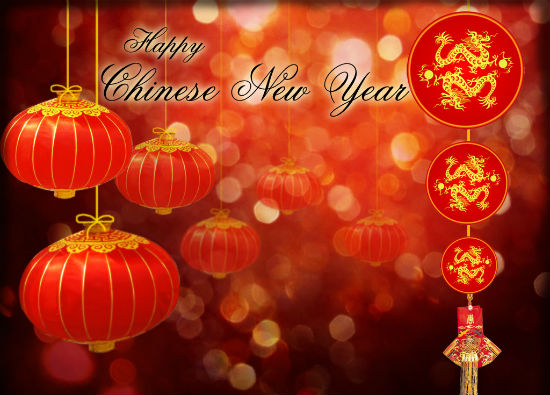 Symbolic Recipes
As in other festivals of China, the Chinese New year is fervent with a lot of food varieties that sparkle with unique recipes, which speak of the occasion. You may know that some food represents a symbolic reference through its appearance. A whole chicken resembles family togetherness, as noodles for long life (noodles are longer in size) and spring rolls for wealth (Spring rolls resemble gold bars). Sounds of words have special significance for the food items during the Chinese New Year. Lettuce is often used in the food for the day, as it sounds like rising fortune and oranges and tangerines are frequently used for they represent wealth and luck respectively with their sounds. Fish is a main dish as it sounds wish and abundance. Sweet rice cakes are there to spell the sweetness of life. Goes without saying that the recipes for the Chinese New year will definitely incorporate these ingredients to make delicacies, which are not only tasty but bring good omen to the people with their fine symbolic significances.
Special Recipes for the Chinese New Year
Interesting news so far! On to the recipes now.
Jiaozi – These are round dumplings filled with ground pork or meat, which the families sit together to prepare and eat together. There may be a lucky coin found inside the dumplings by anyone of the family members.
Chinese egg rolls – These are prepared with egg roll wrappers and use fresh pork for filling, seasoned with soy sauce, pepper and salt.
Clam sycee – Stuffed clams, cooked in white wine with a pungent flavor of ginger and onion.
Lion's head meatballs – Oversized pork meatballs cooked in the sand day pot. They have cabbage, pepper, onion, ginger and soy sauce as ingredient flavors.
Peking duck-Roasted ducks, rubbed with spices, salt and sugar.
Steamed whole fish – Dried and cleaned fresh fish with the ingredients of black beans and spices.
Longevity noodles – Uncut noodles in egg drop soup
Buddha's delight – Famous food before the day of the Chinese New Year. Buddhists make it a point not to kill any animal before the day of the New Year. Hence, a vegetable delicacy with black mushrooms, lily buds, curd sticks, bamboo shoots, along with carrots, cabbage and peas.
Sweets and Cakes
Eight precious puddings – Since eight is a lucky number for the Chinese, pudding made of eight dried candied fruits is a famous dessert of the Chinese New year. Eight fruits symbolize eight precious stones.
Sticky cake (steamed fruit cake), turnip cake and baked cakes are traditional desserts of the New Year. The Chinese love cakes for the reason that they render sweetness, symbolizing the sweetish quality of life with their layers symbolizing the abundance of life. Rice cakes are the favorites of the Chinese.
The Chinese are the lovers of food and celebrate any festival with pomp and pleasure, spending a lot on food varieties. Their New Year is a special occasion for them to celebrate with special and rare delicacies of food.