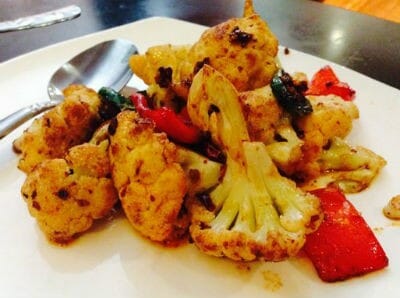 Ingredients:
Gingelly Oil – 40 ml
Cauliflower – 450 gms, finely chopped
Onion – 1
Garlic – 2 cloves, crushed
Green Chilli – 1, finely chopped, seeds removed
Ginger – 1 tsp, grated
Dark Soy Sauce – 30 ml
Brown Sugar – 2 tsp
Cashewnuts – handful
Spring Onions – few, chopped
Oil as required
Method:
1. Heat half of the gingelly oil in a pan.
2. Add the onions, garlic, ginger and green chillies.
3. Stir well and cover the pan with a lid.
4. Cook for few minutes or until onions turn translucent, stirring from time to time.
5. Add the remaining oil and mix.
6. Add brown sugar, cauliflower and sprinkle a little water.
7. Reduce flame to low and cover with a lid.
8. Cook for 8 to 10 minutes or until the cauliflowers are cooked.
9. Add soy sauce and stir well.
10. Cover and cook for another 2 minutes.
11. Garnish with cashewnuts and spring onions.
12. Remove and serve.
Note: image is for illustration purposes only and not that of the actual recipe.