These delicious and easy to make Thai style Spring Rolls are a meal by itself or can also be served as an evening (anytime) snack.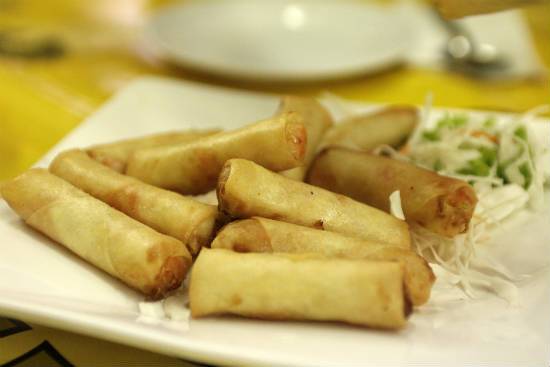 Ingredients:
Spring Roll Pastry Sheets – 300 gms
Glass Noodles – 25 gms
Shredded Cabbage – 1 cup
White Peppercorns – 1/4 tsp, ground
Bean Sprouts – 1 cup
Light Soy Sauce – 1 1/2 tbsp
Garlic – 1 tbsp, chopped
Rice Flour – 50 gms
Vegetable oil for frying
Method:
1. Mix the rice flour with water and bring to a boil to thicken. Keep aside.
2. Soak the noodles in water for 10 minutes. Drain and cut into pieces.
3. To the noodles add bean sprouts, cabbage, pepper and soy sauce.
4. In a pan, fry the garlic until golden yellow and then mix the noodle mixture to it. Stir fry for a minute.
5. Roll out a spring roll sheet and put a spoonful mixture into the middle. Now close its sides into a cylindrical shape using the rice flour paste.
6. Fry the spring rolls in hot oil until a golden crust forms on top.
7. Serve hot with sauce.