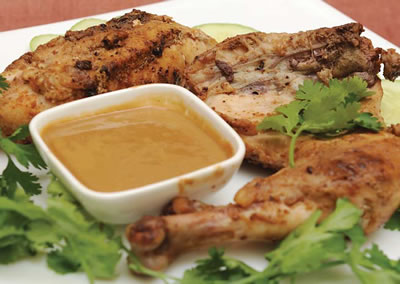 Ingredients:
Chicken Breast – 2, large
Oil – 3 tblsp
Coriander Leaves – 2 tsp, chopped
Sea Salt as per taste
For the marinade:
Lemongrass – 1 tsp, chopped
Lemon Leaf – 1, finely chopped
Green Chillies – 5
Vinegar – 2 tblsp
Garlic – 5 cloves
Thai Ginger (Galangal) – 1 inch piece
Worcestershire Sauce – 2 tsp
For the sauce:
Peanut Butter – 5 tblsp
Soya Sauce – 1 tblsp
Chicken Stock – 2 tblsp
Method:
1. Prick the chicken breasts with a fork.
2. Rub a little salt and keep aside.
3. Grind the marinade ingredients and rub the chicken pieces with it.
4. Keep aside for 20 minutes to marinate.
5. Heat oil in a pan.
6. Grill the chicken pieces till tender and golden brown on both sides.
7. Garnish the chicken with coriander leaves.
8. To make the sauce, blend all the sauce ingredients to a smooth paste.
9. Serve the grilled chicken with peanut sauce.