A classic Chinese stir-fry dish with chicken breast, cashew nuts and light soy sauce. Easy to make and tastes delicious with rice and steamed vegetables.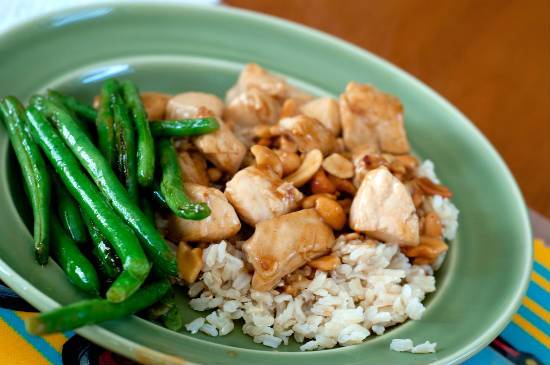 Ingredients:
Chicken Breast – 225 gms, boneless, skinless, chopped
Cashew Nuts – 50 gms
Egg White – 1
Corn Flour – 1 tsp
Water – 150 ml
Sesame Oil – 1/2 tsp
Groudnut Oil – 1 tsp
Chinese Rice Wine – 1 1/2 tsp
Light Soy Sauce – 1 1/2 tsp
Red Capsicum – 1 tblsp, sliced (optional)
Salt as per taste
Coriander Leaves – few, choppted (to garnish)
Method:
1. Combine the egg white, sesame oil, corn flour and a pinch of salt in a bowl.
2. Add the chicken pieces and mix well.
3. Keep it in the fridge for 10 to 15 minutes.
4. Heat sesame oil in a pan over medium flame.
5. Add the chicken and stir-fry for a minute or two. Ensure the chicken does not stick to the pan.
6. Remove the chicken pieces from the pan and drain excess oil.
7. Heat water in a pan over medium flame.
8. When it starts to boil, add the chicken pieces and cook for 2 to 4 minutes. Drain well.
9. Heat groundnut oil in a pan.
10. Fry the cashew nuts for 45 seconds to a minute.
11. Add the wine, red capsicum, soy sauce and chicken.
12. Stir-fry for 2 to 3 minutes.
13. Garnish with coriander leaves.
14. Serve with rice.