A delicious and simple to make classic Chinese chicken dish with orange juice.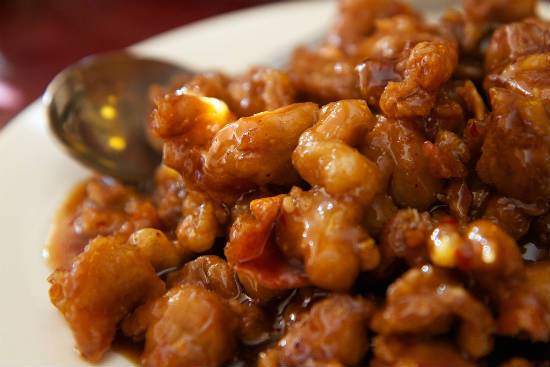 Ingredients:
Chicken Breast – 1, large, cut into bite-sized pieces
Wheat Flour – 2 tblsp
Garlic – 1 clove, finely chopped
Zest of 1/2 Orange
Orange Juice – 1/4 cup + 2 tblsp
Chicken Stock – 1/3 cup
Honey – 1 tblsp
Soy Sauce – 2 tsp
White Wine – 1 tsp
Ginger  – 1/2 tsp, finely grated
Red Chilli Flakes – a pinch
Corn Flour – 1/2 tsp, mixed with 1 tsp water
Five Spice Powder – 1/2 tsp
Coriander Powder – 1/2 tsp
Coarse Sea Salt – a pinch
Olive Oil as required
Red Capsicum – 1/2, chopped
Indian Broad Beans (or Snow Peas) – 1 cup, chopped
Spring Onions – 3 to 4, chopped
Method:
1. Mix garlic, orange juice, orange zest, honey, soy sauce, rice wine, corn flour, ginger and chilli flakes in a bowl.
2. Whisk well and keep aside.
3. Add wheat flour, five spice powder, coriander powder and sea salt to a large resealable bag. Shake well.
4. Add the chicken pieces and shake well until chicken pieces are coated with the mixture.
5. Heat oil in a pan over medium flame.
6. Remove the chicken pieces from the bag and shake off excess flour.
7. Add them to the pan, in batches, and cook until golden brown.
8. Keep aside in a warm place.
9. Add little oil to the pan.
10. Saute the capsicums for a minute or two.
11. Add the beans, spring onions and saute well for 2 to 3 minutes.
12. Add the orange juice mixture and simmer until thickened over low flame, stirring from time to time.
13. Add the chicken pieces and cook for a minute.
14. Remove and serve with cooked rice.