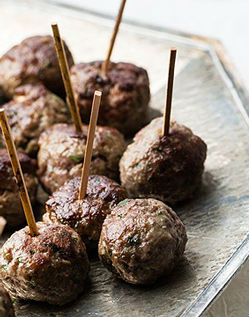 Ingredients:
Lamb or Beef – 250 gms, ground
Egg – 1, small, lightly beaten
Coriander Leaves – 2 tblsp, chopped
Green Chillies – 1/2 tsp, finely chopped
Coriander Seeds – 1/8 tsp, crushed
Cumin Seeds – 1/8 tsp, crushed
Red Chilli Powder – 1/8 tsp
Garam Masala Powder – 1/4 tsp
Salt – 1/4 tsp
Breadcrumbs – 1/4 cup
Maida – 1/4 cup
Cinnamon – 1 one inch stick
Oil – 2 tblsp
Green Cardamoms – 3
Bay Leaf – 1
Fennel Seeds – 1/2 tsp
Plain Yogurt – 1 tblsp
Tomato Puree – 1 tblsp
Warm Water – 1/2 cup
Method:
1. Mix the ground meat with coriander leaves, green chillies, coriander powder, cumin powder, red chilli powder, garam masala powder, salt, beaten egg and bread crumbs in a large bowl.
2. Mix well.
3. Using wet hands make small golf sized balls and place them on a tray lined with plastic wrap.
4. Cover with the wrap and keep it in the fridge for 15 to 20 minutes.
5. Spread the maida on a flat plate and roll the meatballs in the flour.
6. Heat oil in a large pan over medium flame.
7. Stir-fry the cinnamon stick, cardamoms, bay leaf and fennel seeds for 30 seconds.
8. Add the meatballs to the pan and fry until they are browned on all sides.
9. Meanwhile, mix the yogurt, tomato puree and warm water in a bowl.
10. Pour this over the meatballs and cover the pan with a lid.
11. Reduce flame to low and simmer for 30 minutes.
12. From time to time check to ensure the meatballs do not stick to the bottom.
13. Discard the whole spices and transfer the meatballs to a plate.
14. Pour a little sauce over the top and serve.
Note: image is for illustration purposes only and not that of the actual recipe.