Elevate your dining experience with this delectable Crab Fried Rice, a harmonious blend of succulent crabmeat, eggs, and vibrant veggies.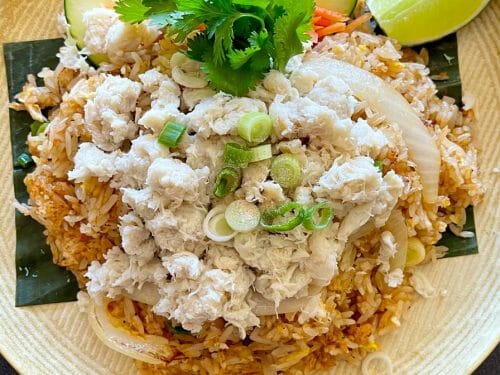 Crab Fried Rice is an enticing culinary masterpiece that harmoniously combines the delicate sweetness of crabmeat with the rich aroma of perfectly cooked rice. This dish is a testament to the fusion of flavours and textures that Asian cuisine is renowned for. A symphony of colours and aromas, Crab Fried Rice welcomes you to indulge in the exquisite marriage of ingredients that dance in perfect synchrony on your palate.
In this Crab Fried Rice recipe, succulent crabmeat mingles with lightly beaten eggs, lending a velvety touch to the dish. The rice serves as a canvas, absorbing the fragrant olive oil, garlic, and peas, infusing each grain with delightful flavours. Optional sweet corn kernels and spring onions add an extra layer of vibrancy and crunch, making each bite a lovely surprise.
This dish is a perfect main course for seafood enthusiasts and rice lovers. Its umami-rich profile and satisfying textures make it a standalone star on your dining table. As you savour each bite, you'll find the interplay of flavours enchanting.
Pair this Crab Fried Rice with classics like Sweet and Sour Chicken, or explore new horizons with Spicy Thai Basil Shrimp for a culinary adventure that will delight your taste buds.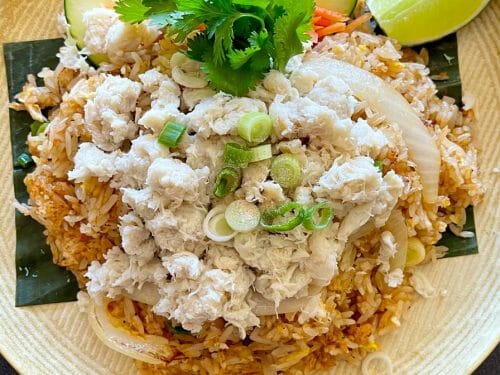 Crab Fried Rice

Recipe

Elevate your dining experience with this delectable Crab Fried Rice, a harmonious blend of succulent crabmeat, eggs, and vibrant veggies.
Ingredients for
Crab Fried Rice
125

gms Crabmeat

2

small/medium Eggs (lightly beaten)

2

tsp

Vegetable Oil

1

tbsp

Olive Oil

1

clove

Garlic (finely chopped)

500

gms Rice (cooked)

1/3

cup

Peas (shelled)

2

tbsp

Sweet Corn Kernels (boiled, optional)

1

tbsp

Spring Onions (finely chopped, optional)

2

tbsp

Onions (fried)

1

Lime wedges
How to make
Crab Fried Rice
Heat vegetable oil in a pan over medium flame.

Pour beaten eggs, swirl, and cook evenly. Remove from flame, cool, and chop.

Heat olive oil in a pan, fry the garlic for 10 seconds.

Add rice, and stir well.

Add peas, crab meat, and 1 tbsp onions. Mix, and cook for a minute.

Transfer to a serving bowl.

Garnish with fried shallots and lime wedges.

Serve with chopped omelettes on top or by the side.
Frequently Asked Questions:
How can I customize this Crab Fried Rice?
Elevate your experience by adding shrimp or experimenting with different veggies like bell peppers and carrots. You can also explore variations like Pineapple Fried Rice for a tropical twist.
Can I make this dish vegetarian?
Absolutely! Swap out the crabmeat for tofu or extra veggies for a delectable vegetarian version. You'll still enjoy the incredible flavours and textures that make Crab Fried Rice so popular.
What's a good pairing for Crab Fried Rice?
For an exquisite meal, pair Crab Fried Rice with classic Asian dishes like Teriyaki Chicken or Sesame Ginger Glazed Salmon. The symphony of flavours will leave you craving more.