A delicious fried rice with crab ideal for any occasion – lunch, dinner, party or sunday brunch. Serve with a sauce or gravy of choice.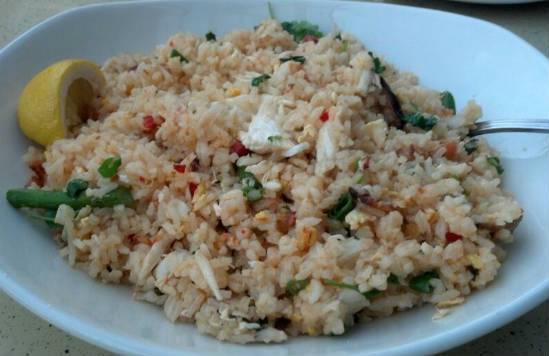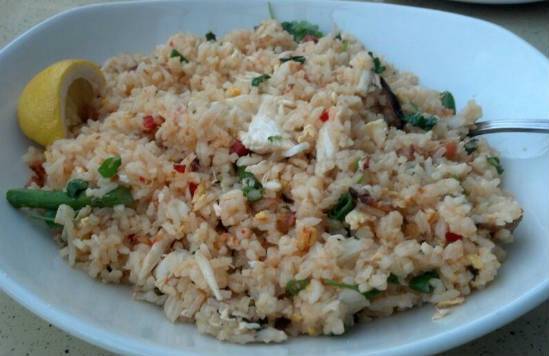 Ingredients:
Crabmeat – 125 gms
Eggs – 2, small/medium, lightly beaten
Vegetable Oil – 2 tsp
Olive Oil – 1 tblsp
Garlic – 1 clove, finely chopped
Rice – 500 gms, cooked
Peas – 1/3 cup, shelled
Sweet Corn Kernels – 2 tblsp, boiled (optional)
Spring Onions – 1 tblsp, finely chopped (optional)
Onions – 2 tblsp, fried
Lime – 1, wedges
Method:
1. Heat the vegetable oil in a pan over medium flame.
2. Pour the eggs and swirl well.
3. Cook until the eggs are cooked evenly and remove from flame.
4. Allow it to cool and chop them into small pieces.
5. Heat olive oil in a pan over medium flame.
6. Add the garlic and fry for 10 seconds.
7. Add the rice and stir well.
8. Add the peas, crabmeat and 1 tblsp onions.
9. Mix well and cook for a minute.
10. Transfer to a serving bowl.
11. Garnish with the fried shallots and lime wedges.
12. Serve with the chopped omelettes on top or by the side.