Savor the goodness of fluffy rice, scrambled eggs, and vibrant vegetables in Egg Fried Rice—a classic dish with a global appeal.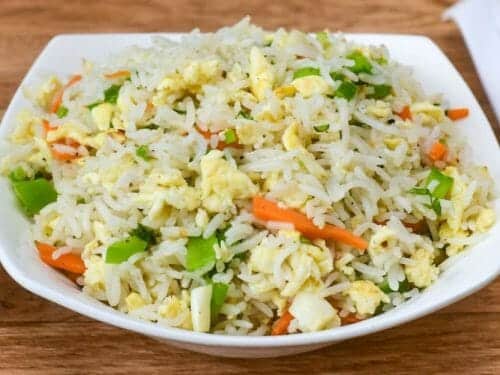 Egg Fried Rice is a beloved and timeless dish that combines the simplicity of rice with the delightful flavours of eggs and various seasonings. This versatile dish has its roots in Chinese cuisine. Still, it has gained popularity worldwide for its ease of preparation and delectable taste. With fluffy grains of rice stir-fried to perfection, complemented by scrambled eggs and a medley of vegetables, Egg Fried Rice offers a harmonious balance of textures and flavours in every bite.
The beauty of Egg Fried Rice lies in its adaptability. It can be enjoyed as a standalone meal or a side dish alongside other Chinese delicacies such as General Tso's Chicken, Sweet and Sour Pork, or Kung Pao Shrimp. The dish also lends itself to various modifications, allowing you to personalize it to your taste preferences. Add succulent pieces of diced chicken, shrimp, or tofu to elevate the protein content or incorporate colourful vegetables like carrots, peas, and bell peppers for a vibrant and nutritious twist.
Whether you're seeking a quick weeknight dinner, a delicious lunch option, or a delightful addition to your Chinese-inspired feast, Egg Fried Rice will satisfy your cravings and leave you longing for more.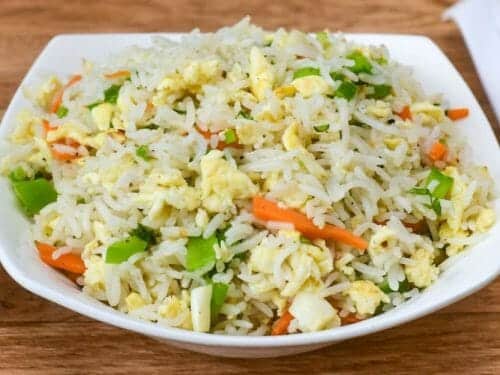 Egg Fried Rice
Savor the goodness of fluffy rice, scrambled eggs, and vibrant vegetables in Egg Fried Rice—a classic dish with a global appeal.
Ingredients
2

cup

Cooked Basmati Rice

8 to 10

Eggs

2

Onions

1

bunch

Spring Onions

10

Beans

2 to 3

Carrot

2

Capsicum

100

g

Cabbage

1/2

tbsp

Black Pepper Powder

2

Green Chillies

2 to 3

tbsp

Tomato Puree

1/4

cup

Soy Sauce

as per taste

Salt

3

tbsp

Oil

few

Coriander Leaves

chopped
Instructions
Pressure cook the rice until 1 whistle and remove.

Chop all the vegetables finely and keep aside.

Grind together the green chillies and mix well 2 tblsp water.

Heat oil in a pan.

Saute the onions for a minute.

Add the chopped vegetables one by one and cook for a minute or two.

Add the green chilli paste and tomato puree.

Mix well and add soy sauce.

Break the eggs into the pan and stir-fry for 3 to 4 minutes.

Add the cooked rice and mix until all ingredients are combined.

Garnish with coriander leaves.

Serve.
Frequently Asked Questions about Egg Fried Rice
What is the best rice type for Egg Fried Rice?
For egg-fried rice, it is best to use long-grain rice. Jasmine rice or basmati rice are good options as they don't clump together and have a nice, fluffy texture.
Can I use leftover rice for Egg Fried Rice?
Yes, using leftover rice is preferable for making egg-fried rice. Leftover rice tends to be drier, which prevents the rice from becoming too mushy when fried.
Can I use other vegetables besides peas and carrots in Egg Fried Rice?
You can add other vegetables to your egg-fried rice, such as bell peppers, onions, and broccoli. To make the dish heartier, you can add protein, such as shrimp or chicken.
Is Egg Fried Rice a healthy meal option?
Egg-fried rice can be a healthy meal option if made with the right ingredients and portion sizes. Using brown rice instead of white rice and adding plenty of vegetables can make it more nutritious. However, too much oil or soy sauce can increase the calorie and sodium content, so it's essential to be mindful of your ingredient quantities.
Can I make Egg Fried Rice without eggs?
You can make a vegetarian version of egg-fried rice by omitting the eggs and adding more vegetables or protein. You can also try substituting the eggs with tofu or tempeh to add a similar texture and protein content.