Light, crisp and flavorful, these baked chicken wings are perfect for parties or a great way to indulge yourself during the weekend.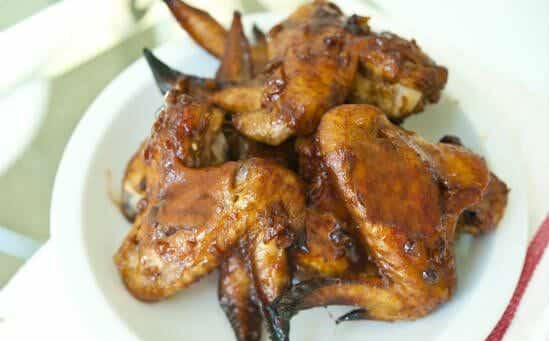 Ingredients:
Chicken Wings – 8 to 10, wing tips removed
Olive Oil – 2 tblsp
Garlic – 3 cloves, halved
Sambar Onion (Shallots) – 1 tblsp, chopped
Onion – 1, small, quartered and separated
Rosemary – 1 sprig
Sage Leaves – 2
Thyme – 1/2 tsp, dried
Oregano – 1/2 tsp, dried
Dry White Wine – 1/4 cup
Tomato Sauce – 1/4 cup
Salt as per taste
Black Pepper Powder as per taste
Method:
1. Rinse and pat dry the chicken wings.
2. Split them into two pieces and place them in a large baking dish.
3. Drizzle olive oil on top and sprinkle salt and pepper powder.
4. Add the garlic, sambar onions, rosemary, onions, sage, thyme and oregano.
5. Toss well until the wings are evenly coated.
6. Place it in a preheated oven at 350F for 10 to 15 minutes or until lightly browned, stirring once or twice.
7. Add the white wine and cook for another 3 to 5 minutes.
8. Add the tomato sauce and stir well.
9. Bake for another 10 minutes or until the chicken wings are browned and cooked.
10. Remove, cool and serve warm.