Considered as one of the national dishes of Singapore, this is a popular dish in Singapore, Thailand and Malaysia.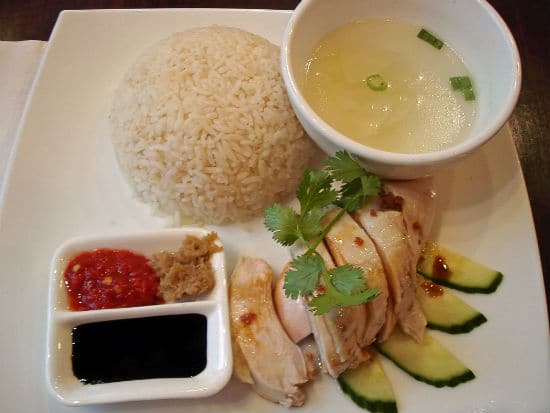 Ingredients:
Chicken Breasts – 3, about 750 gms
Onion – 1, small, quartered
Spring Onion – 1, sliced
Ginger – 1/2 inch piece
Salt – 1 tsp
Sesame Oil – 3/4 tsp
Water – 2 litres
For the rice:
Basmati Rice – 250 gms
Ginger – 1/2 inch piece, finely sliced
Garlic – 4 cloves, crushed
Oil – 3 tsp
Sea Salt – 3/4 tsp
Sesame Oil – 1 tsp
To Serve:
Lettuce – little, chopped (optional)
Tomato – 1, finely sliced (optional)
Cucumber – 100 gms, sliced
Garlic Soy Sauce – as required
Chilli Garlic Dipping Sauce (or Sweet Chilli Sauce) – as required
Method:
1. Pour the water into a large pot and place it over medium flame.
2. Add the chicken, onions, spring onions, ginger, salt and sesame oil.
3. Bring to a boil and simmer over medium flame for 5 to 10 minutes or until the chicken is cooked through.
4. Remove the chicken and cover it with foil to keep it warm.
5. Transfer 1/3rd of the water from the pot and keep it aside.
6. Simmer the remaining water over low flame for 10 to 15 minutes. When it has thick but pouring (soup like) consistency, remove from flame and keep aside. This will be served as a soup.
7. In a separate pot, heat the reserved water over medium flame.
8. Add the rice, garlic, ginger and salt.
9. Stir and bring to a boil.
10. Reduce flame to low and simmer for 4 to 5 minutes.
11. Switch off the flame and add the oil.
12. Stir well and cover the pot.
13. Keep it aside for 10 to 15 minutes.
14. To serve, cut the chicken breast into small slices and arrange on a serving plate.
15. Add the lettuce, tomato and cucumber.
16. Keep a small cup of rice.
17. Gently drizzle 1 to 2 tsp of the ginger soy sauce on to the chicken pieces.
18. Serve with chilli garlic dipping sauce and a bowl of the soup.