A really simple and delicious chicken fried rice perfect for a lazy weekend lunch or dinner.  Can be made with leftovers too.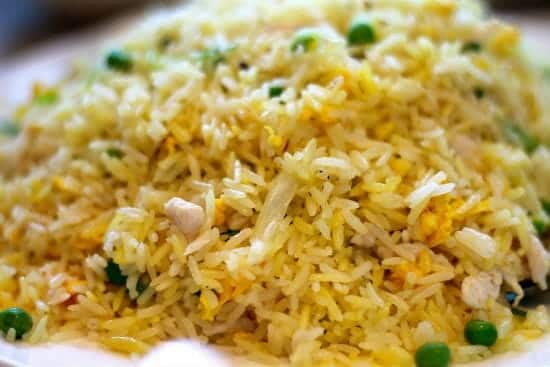 Ingredients:
Rice – 1 cup, cooked
Chicken – 1 cup, cooked, finely chopped
Oil – 100 ml
Spring Onions – 1 cup, finely chopped
Garlic Paste – 2 tsp
Celery (or Spring Onions) – 2 tblsp, finely chopped
Soy Sauce – 2 tsp
Vinegar – 1 tblsp
Chilli Sauce – 1 tsp
Salt as per taste
Optional:
Green Peas – 2 tblsp
Method:
1. Heat oil in a pan over medium flame.
2. Saute the garlic and spring onions till the onions turn light brown.
3. Add the chicken pieces and mix well.
4. Add soy sauce, vinegar and chilli sauce.
5. Add the rice and mix well.
6. Cook for 2 minutes and remove to a serving bowl.
7. Garnish with the celery.
8. Serve.