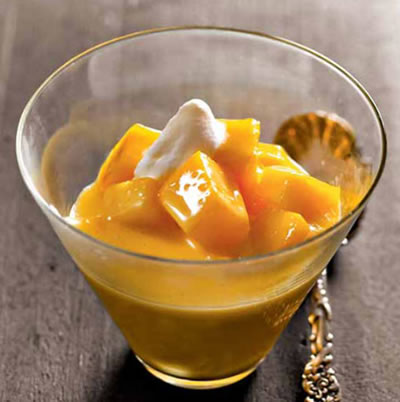 Ingredients:
Milk – 1 cup
Egg Yolks – 2
Sugar – 3 to 4 tblsp
Vanilla Extract – 1 tsp
Ripe Mango – 1, large, peeled, diced
Whipped Cream – 1/2 cup
Method:
1. Boil in the milk.
2. Whisk the egg yolks until smooth and add sugar.
3. Beat well until thick.
4. Gently pour the boiled milk and mix well.
5. Transfer the egg and milk mixture to a pan.
6. Place over low flame and cook until thick, stirring all the time.
7. Do not boil as it will curdle the mixture.
8. Pour this into a large bowl and add the vanilla extract.
9. Cover with a lid and keep it in the fridge for 6 to 8 hours.
10. To serve, add the diced mangoes to a bowl.
11. Add the chilled custard and mix.
12. Top with a dollop of whipped cream.
13. Serve.