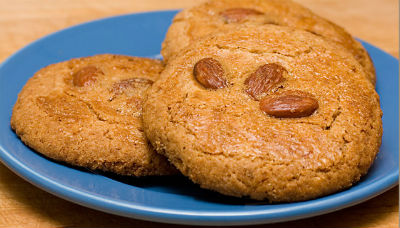 Ingredients:
Maida – 1 cup + extra for kneading
Baking Powder – 1/4 tsp
Baking Soda – 1/4 tsp
Sugar – 2/3 cup
Egg – 1/2
Milk – 1 tblsp
Almond Extract – 1 tsp
Almonds – 6 to 8, whole, shelled
Butter – 1/4 cup, melted
Method
1. Sift the maida, baking powder and baking soda in a large bowl.
2. Add sugar and mix well.
3. In a different bowl, combine the egg, milk and almond extract.
4. Add the melted butter to the flour.
5. Now all the milk mixture and combine well till a soft dough consistency is achieved.
6. Transfer the dough to a floured surface and shape into a ball.
7. Knead for a few seconds and wrap with cling film.
8. Keep in a fridge for 15 to 20 minutes.
9. Unwrap and place it on a lightly floured surface.
10. Make 6 to 8 balls from the dough.
11. Gently make a dent in the middle and flatten a little.
12. Place 1 almond in the dent and repeat for the rest.
13. Place them on a baking sheet evently spaced out.
14. Bake the cookies in a preheated oven at 400F for 10 to 15 minutes or until lightly browned.
15. Remove and cool completely.
Image credit: coffee and vanilla