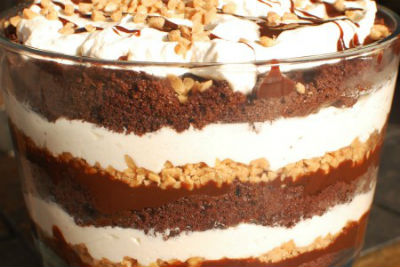 Ingredients:
Chocolate Cake – 1, sliced horizontally
Rum – 1 tblsp
Walnuts or Almonds – 4 to 5, chopped + few for garnish
Milk – 125 ml
Corn Flour – 2 to 3 tblsp (or more if required)
Sugar – as required
Water – 1/4 cup
Vanilla Essence – 1/4 tsp
Bananas – 2, cut into thin rounds
Powdered Sugar – 3/4 tblsp
Lemon Juice – 1/2 tblsp
Milk Chocolate – few pieces, grated
Ghee to fry
Method:
1. Combine milk, corn flour and sugar to make a thick custard.
2. Heat a little ghee in a pan and fry the chopped walnuts for 30 to 45 seconds.
3. Keep aside.
4. Add the vanilla essence to the custard and mix.
5. Arrange half of the sliced cake in a flat dish.
6. Sprinkle rum on top to moisten the cake.
7. To the sliced bananas, add powdered sugar and lemon juice.
8. Gently mix and arrange half of the slices over the cake.
9. Sprinkle half of the walnuts and spread half of the custard over the bananas.
10. Keep in the fridge to set.
11. Now arrange the second layer of cake and sprinkle with nuts and rum.
12. Pour the remaining custard mixture on top and keep it in the fridge.
13. Garnish with walnuts, sliced bananas and chocolate.
14. Serve chilled.