A quick, easy and yummy recipe for those who love Chocolates and Gulab Jamuns.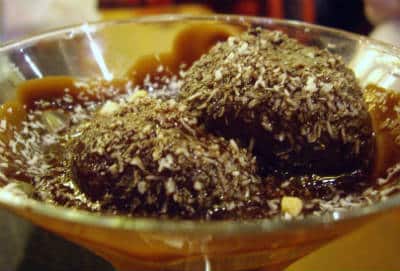 Ingredients:
Milk Powder – 1 cup
Maida – 1/2 cup
Baking Powder – little
Cocoa Powder – 2 tsp
Butter – 2 tblsp, melted
Milk – little
Oil for frying
For Sugar Syrup:
Sugar – 2 cups
Water – 1 cup
Cardamom Powder – little
Saffron Strands – few
For Chocolate Sauce:
White Chocolate – 1/2 cup
Cream – 3 cups
Method:
1. Combine the maida, milk powder, baking powder, cocoa powder and butter in a bowl.
2. Add milk and mix well.
3. Shape the mixture into small balls.
4. Cover with a damp cloth and keep aside until required.
5. Heat water in a pan over medium flame.
6. Add sugar and stir until fully dissolved.
7. Add cardamom powder and saffron.
8. Bring to a boil and switch off flame.
9. Heat oil for frying in a pan over medium flame.
10. Fry the prepared balls until golden brown.
11. Remove and drop them in the prepared sugar syrup.
12. Cover and keep aside for 8 hours or overnight.
13. Mix the cream and white chocolate in a bowl.
14. Dip the balls in the chocolate sauce and serve at once.
Tip: If desired, garnish with grated almonds or white chocolate.
Image via Flickr: https://www.flickr.com/photos/columbusfoodie/3467582784/