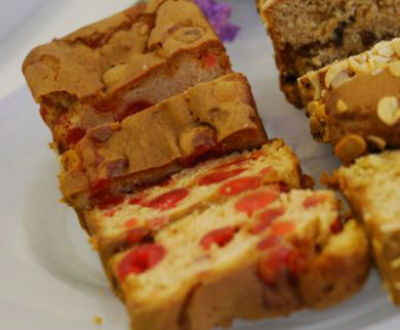 Ingredients:
Eggs – 6, separated
Raisins – 1 cup
Sweet Sherry – 4 tblsp
Butter – 2/3 cup
Sugar – 1 cup
Almond Extract – 1 tsp
Glace Cherries – 1 cup, quartered
Almond Powder – 2 1/2 cups
Method:
1. Heat a small pan over medium flame.
2. Add the raisins and sherry.
3. Cook for 5 to 7 minutes till the sherry is absorbed by the raisins.
4. Remove from flame and add the cherries.
6. Add 6 tblsp of the almond powder and keep aside.
7. In another bowl, combine the butter and sugar.
8. Beat until fluffy.
9. Add the egg yolks and almond extract.
10. Add the remaining almond powder and beat well.
11. Add the raisins and cherries.
12. In another bowl, beat the egg whites until stiff peaks form and add this to the cherry batter.
13. Transfer this mixture to a greased pan lined with parchment paper.
14. Place the pan in a preheated oven at 325F and bake for an hour.
15. Insert a skewer in the middle and if it comes out clean, the cake is done.
16. Remove and cool.
17. Store in an airtight container for up to 2 weeks.
Note: image is for illustration purposes only and not that of the actual recipe.