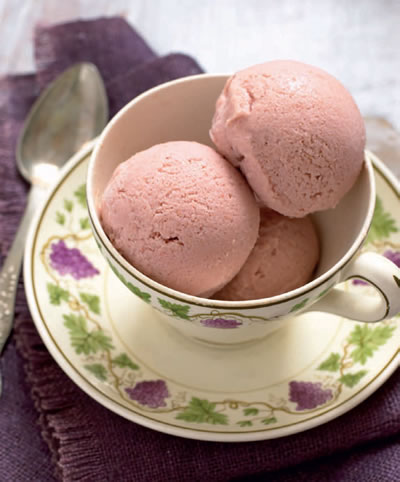 Ingredients:
Rhubarb – 225 gms, cut into bite sized pieces
Sugar – 1 cup, granulated
Whole Milk – 1 cup
Half-and-Half – 1/4 cup
Vanilla Extract – 1/2 tsp
Egg Yollks – 2 to 3
Salt – a small pinch
Method:
1. Heat a pan over moderate flame.
2. Add the rhubarb, 1/8tsp of sugar and 1 tblsp water.
3. Cook, covered, for 5 to 8 minutes or until rhubarbs are tender.
4. Transfer to a blender and puree.
5. Keep aside to cool.
6. Meanwhile combine the egg, remaining sugar and salt in a bowl.
7. Heat the milk and half-and-half in a pan till hot.
8. Add this to the egg mixure.
9. Add the vanilla extract and place the bowl over a pan of gently simmer water and stir till the custard starts to coat the back of a spoon.
10. Remove the bowl, cover and keep in the fridge.
11. Once it is cold, mix with the rhubard puree and freeze for 2 hours, covered, until frozen.
12. Remove and beat it with a fork.
13. Freeze again for 2 hours and serve.
14. This keeps good for up to 1 week if stored in the freezer.
Note: Half and Half is a dairy product consisting of half light cream and half milk.