Tangy and Sweet, this granita made with Honeydew melon puree is very simple to make and is a refreshing dessert for any meal or perfect on a hot day.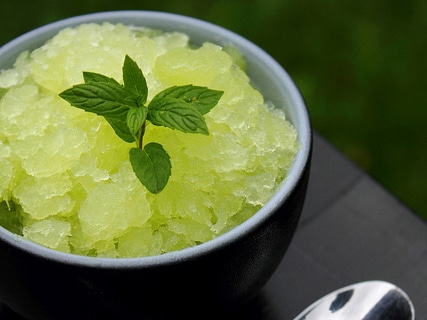 Ingredients:
Honeydew Melon – 1 kg, seeds and rind removed
Sugar – 1 1/2 to 2 tblsp
Hot Water – 1 1/2 to 2 tblsp
Lime Juice – 3 tsp
Salt as per taste
Mint Leaves – handful
Method:
1. Discard the seeds and rind of the melon.
2. Cut the flesh into small pieces.
3. Transfer this to a blender and blend to a coarse puree.
4. Strain this through a sieve to make 1 1/2 to 2 cups of juice. Discard the pulp
5. Mix the sugar and hot water in a bowl. Stir well until fully dissolved.
6. Add this to the melon juice along with lime juice and a pinch of salt.
7. Stir gently.
8. Pour this into a freezer-safe container and keep it in the freezer for 30 to 45 minutes.
9. Remove and stir gently using a fork.
10. Place it back inside the freezer and keep stirring every 15 to 20 minutes, until fluffy and frozen, for about 1 hour.
11. Scoop this into a serving glass.
12. Garnish with mint leaves.
13. Serve at once.