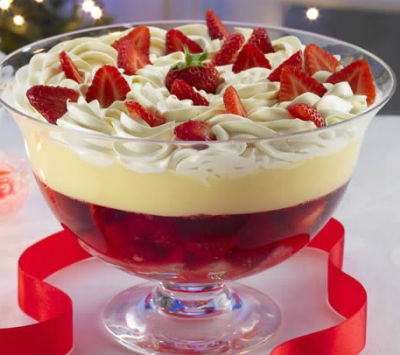 Ingredients:
Musk Melon – 2, small + 1/2, small
Watermelon – 1/2
Sugar – 2 tsp + 2 tsp
Lemon Juice – 1 tsp
Cream – 150 ml
Almonds – 2 tblsp, chopped
Cornmeal – 2 tblsp
Sugar – 2 tblsp
Cinnamon Powder – 1/4 tsp
Butter – 3 tblsp
Method:
1. Chop the 2 musk melons and watermelon into small cubes and reserve the juice.
2. Add 2 tsp of sugar and keep them in a bowl.
3. Grind the 1/2 musk melon to a puree adding the reserved juice.
4. Add 1 tsp lemon juice and 2 tsp sugar to the puree. Mix well.
5. Whisk the cream well and add the pureed melon.
6. Keep aside.
7. Blend the almonds, cornmeal, sugar, cinnamon and butter to a coarse mixture. Bake this mixture for 10 minutes at 180C. Keep aside.
8. To make the trifle, spoon a layer of the chopped fruits at the bottom of a small serving glass.
9. Add a layer of the cream mixture followed by a layer of the fruits.
10. Keep the glasses in the fridge until set.
11. Sprinkle some of the baked mixture on top and serve at once.
Note: image is for illustration purposes only and not that of the actual recipe.