A very simple vegetarian burger with red kidney beans (rajma). Serve with potato wedges and fries.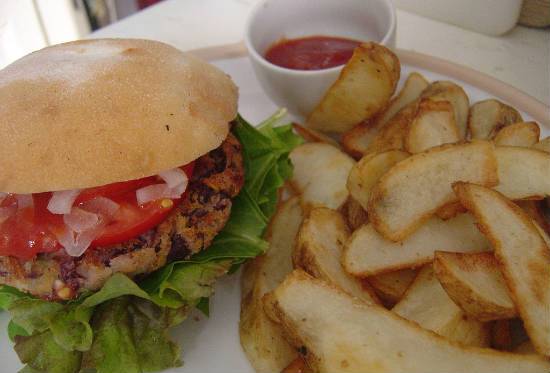 Ingredients:
Rajma (Kidney Beans) – 200 gms
Tomato – 1, finely chopped
Garlic Paste – 1/4 tsp
Garam Masala Powder – 1 tsp
Breadcrumbs – 1/4 cup
Soy Sauce – 2 tsp
Plain Flour – 2 tblsp
Lemon Juice – 2 tsp
Oil – 2 tsp
To Serve:
Burger Buns – 4, halved
Butter as required
Onion Rings
Cucumber Slices
Tomato Slices
Tomato Ketchup
Lettuce
Black Pepper Powder as per taste
Method:
1. Soak the kidney beans for 6 to 8 hours or overnight preferably.
2. Drain, rinse and mash them well.
3. Transfer to a large bowl with tomatoes, garlic paste and garam masala powder.
4. Add the flour and breadcrumbs.
5. Mix well.
6. Add lemon juice and soy sauce.
7. Mix again until evenly combined.
8. Shape this into 4 burger patties.
9. Heat oil in a shallow nonstick pan over medium flame.
10. Fry the prepared patties for 10 to 12 minutes or until golden brown.
11. Remove.
12. To serve, butter one half of the buns.
13. Place some lettuce and place the cooked burger patty on top.
14. Top up with onion rings, slices of tomato and cucumbers.
15. Sprinkle some pepper powder on top.
16. Spread the ketchup on the other half and cover.
17. Serve with potato wedges or french fries.