Shakshouka (or Chakchouka) is a popular Middle Eastern breakfast dish made of tomatoes, capsicums, onions, eggs and spices. This dish is a staple dish of Tunisian, Egyptian and Israeli cuisine.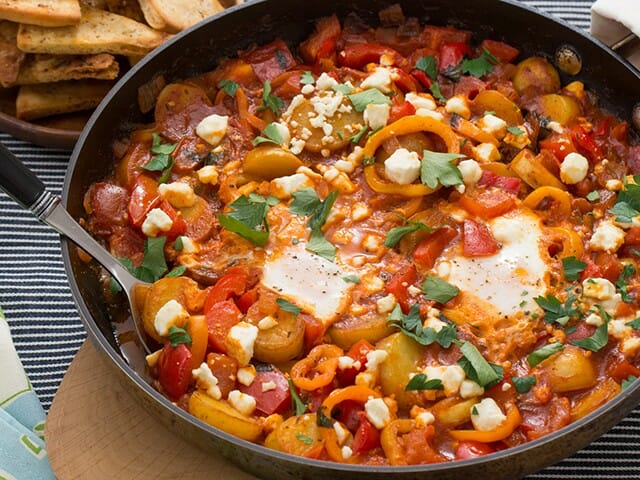 Ingredients:
Eggs – 4
Olive Oil – 2 tblsp
Cumin Seeds – 1 tsp
Garlic – 4 to 5 cloves, finely chopped
Black Pepper Powder – 2 tsp
Cumin Powder – 2 tsp
Red Chilli Powder – 1 tsp
Capsicum – 1 big or 2 small, chopped
Tomatoes – 750 gms, chopped and lightly mashed
Spinach – 100 gms (optional)
Salt as per taste
Method:
1. Heat oil in a pan over medium flame.
2. Add the cumin seeds, garlic and onions.
3. Saute for a minute or two.
4. Add 2 to 3 tsp of water, red chilli powder, cumin powder, black pepper powder and stir well.
5. Add the tomatoes, capsicum and stir.
6. Cover the pan with a lid and cook for 10 to 15 minutes or until the vegetables have softened.
7. Using the back of a spoon make 4 small holes in the mixture (push aside the mixture to make a depression) and break the eggs into the holes, one egg per hole.
8. Cover the pan and allow them to cook until they are firm but not dry, for about 5 minutes.
9. Remove from flame.
10. Garnish with black pepper powder.
11. Serve with crusty bread.