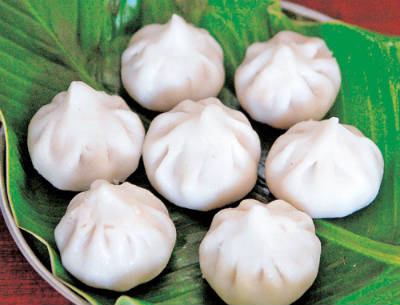 Ingredients:
Rice Flour – 2 cups
Gingelly Oil – 1 tsp
Salt as per taste
Coconut – 2 cups, grated
Jaggery – 2 cups, powdered
Cardamom Powder – 1/4 tsp
Method:
1. Dry roast the coconut and remove.
2. Dissolve the jaggery in 2 cups of water and bring to a boil.
3. When it starts to thicken and sticky, add the roasted coconut.
4. Add cardamom powder and stir well.
5. Remove and keep aside.
6. Add 2 cups of hot water to the rice flour.
7. Add oil and salt. Stir well until mixed and free of lumps.
8. Shape this into small cups and add a spoonful of the coconut-jaggery filling.
9. Cover and then steam cook until done.
image credit: mid-day.com