Ganesh Chaturthi is just around the corner. Every year it is celebrated with great pomp and show not only in India but also all over the world. Ganesh Chaturthi is rejoiced as the birthday of Lord Ganesha who is considered as Vigana Harta" (the one who removes obstacles) and "Buddhi Pradaayaka" (one who grants intelligence). The festival falls on Shukla Chaturthi of the Hindu month of Bhadra and generally falls between August and September.
Lord Ganesh is known for his inclination towards sweets and so a variety of sweets are made on this auspicious occasion, with the most popular one being Modak. When comes to the language of food, there always some kind of connection that can connect various regions. Although, the ingredients might differ a little, the basic concepts and techniques are similar. Modak, a popular Indian sweet, prepared especially for the Ganesh Chaturthy occasion, is referred as Kozhukattai/Kolukattai" in Tamil, 'Kadubu" in Kannada and the same is referred as Mochi (esp. JapaneseDaifuku) in Japanese. Glutinous sweet rice flour is used to make Mochi whereas regular rice flour is used to make Modak.
Celebrate this auspicious occasion with the following special recipes.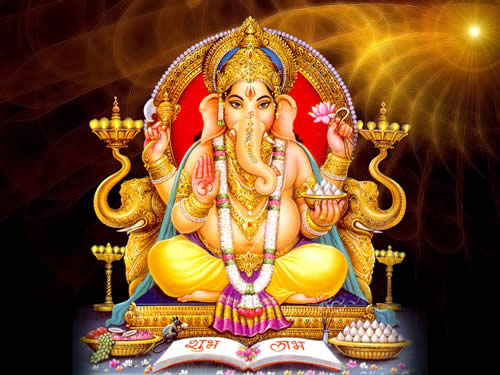 Modak: Modak means "That which gives happiness". Fabulous and tempting Modak are a must during the festival of Ganesh Chaturthi and celebration is considered incomplete without this very tasty "Prasad. These sweet Kozhukattai are made with jaggery coconut filling and is not only Lord Ganesha's favorite but for all.
Kozhukattai: The main neivedhyam for Lord Ganesha on Ganesh Chaturthi occasion in South India is Kozhukattai. Five varieties of Kozhukattai – Thengai Purana Kozhukattai, Uluthamparuppu Poorana Kozhukattai, Ellu Poorana Kozhukattai, Pachhai Payiru Kozhukattai, and Kadalai Paruppu Kozhukattai are offered on this auspicious occasion. For all Kozhukattai the outer covering is the same which is made with rice flour but the inside stuffing is different. The failings of sweet Thengai Purana Kozhukattai are made of coconut, jaggery or sugar whereas for ellu kulakkattai, the filling is prepared with jaggery and sesame seeds. The savory version of sweet Kozhukattai is Uppu kozhukattai. These spicy Ulundhu Kozhukattai are made of black gram lentils and is a healthy snack.
Mani/Ammini Kozhukattai (Pearl Modaks): This is another spicy kozhukattai that is made using leftover excess rice flour dough and lentil fillings.
Paal Kozhukattai: Steamed rice balls in saffron-infused milk is another popular Ganesh chaturthi recipe.
Pal Payasam or Kheer: This delicious dessert is Indian rice pudding and a must during Indian festivals.
Ellu Urundai (sesame seed balls): Another yummy and healthy Vinayaka Chaturthi offering is Ellu Urundai. It is made with jaggery and sesame seeds which are rich sources of iron. It is extremely beneficial for women in their menopause state.
Kadalaparuppu Payasam: It is a simple and easy recipe . You don't need condensed milk or jaggery syrup . This delicious kheer is prepared from Moong dal, Chana dal lentils and sweetened with jaggery. The flavors of coconut milk and cardamom make it more delicious.
Puran Poli: Puran Poli is another delicacy which is prepared on the occasion of Ganesh Chaturthi.
Venna Appalu: It is a rice flour based sweet with a crisp exterior and a soft interior that melts in the mouth instantly.
Kondai kadalai sundal (Channa Sundal): Channa sundal is another popular Ganesh Chaturthi savory recipe. It is a healthy snack which is low in fat, high in protein and is also filling.
Puliyodarai: This tangy rice dish speckled with spices, roasted peanuts and aromatic curry leaves is a traditional favorite and Ganesh Chaturthi festival is incomplete without this hot Puliyodarai.
This year, make the occasion of Ganesh Chaturthi sweeter, preparing mouth watering recipes and treat Ganesha with his favorite sweets and savories.
Happy Ganesh Chaturthi!