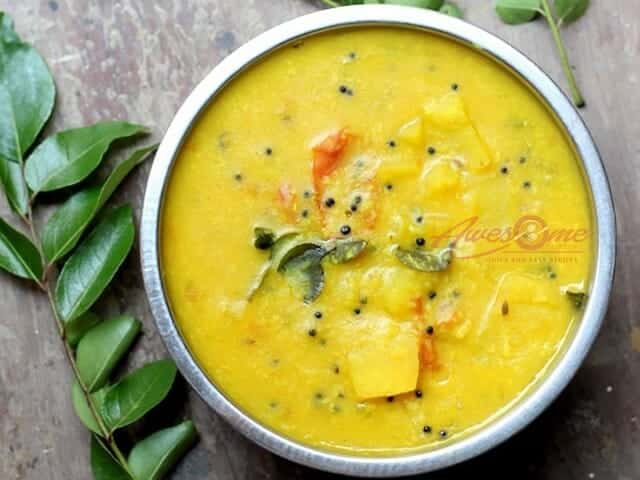 Ingredients:
Yellow Pumpkin – 3 cups, quartered
Urad Dal – 1 cup (dry roasted till golden) + 2 tsp
Turmeric Powder – 1/2 tsp
Coconut – 1 cup, grated
Cumin Seeds – 2 tsp
Coconut Oil – 2 tsp
Mustard Seeds – 1 tsp
Salt as per taste
Red Chilli Powder – 1 1/2 tsp or as per taste
Asafoetida Powder – a small pinch
Curry Leaves – handful
Method:
1. Boil the dal in a pan over medium flame.
2. When it is almost done, add the pumpkin pieces, turmeric powder, salt and red chilli powder.
3. Simmer it is cooked.
4. Meanwhile grind together the grated coconut and cumin seeds.
5. Add this to the kootu and boil for a few more minutes.
6. Remove the pan from flame.
7. Heat oil in a small frying pan.
8. Fry the mustard seeds, 2 tsp dal, asafoetida and curry leaves.
9. Pour this over the kootu.
10. Serve hot.
Note: image is for illustration purposes only and not that of the actual recipe.