A popular Indian sweet commonly made during festivals and special occasions.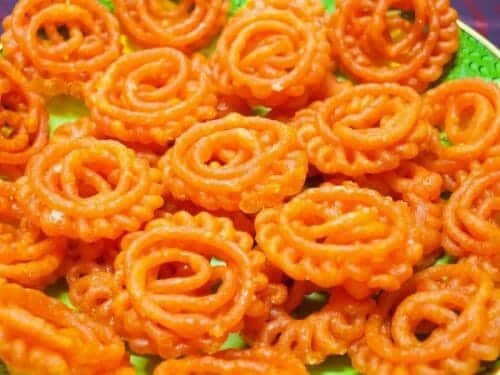 Jangiri is a popular Indian sweet typically made during weddings, special occasions or festivals. Jangiri is often confused with Jalebi due to how both the sweets look. Though the process might look the same, the major difference is Jangiri is made with urad dal and Jalebi is made with maida.
Also known as Imarti, this sweet originated during the Mughal era and gained prominence over the years.
Deep fried in hot oil, they are dipped in a sugary syrup and kept aside to cool.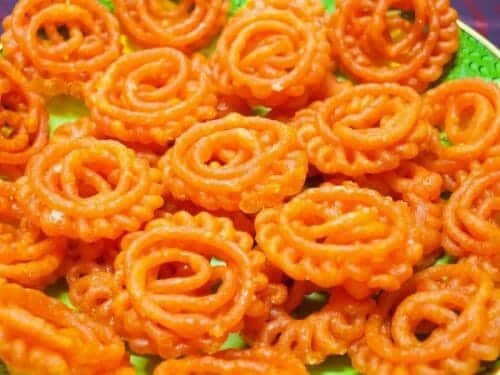 Jangiri

Recipe

A popular Indian sweet commonly made during festivals and special occasions.
Ingredients for
Jangiri
250

g

Urad Dal

3

tsp

Raw Rice

1 1/4

kg

Sugar

500

g

Ghee

500

ml

Water

1/4

tsp

Cardamom Powder

1/4

tsp

Kesari Powder
How to make
Jangiri
Soak the dal and rice for 45 minutes.

Grind together coarsely and add kesari powder.

Boil the water and sugar till it reaches a one string consistency.

Add 1 tsp of milk and remove the impurities that rise up.

Remove and add cardamom powder. Stir well.

Sprinkle a little water on the coarse batter and grind to a smooth paste.

Heat ghee in a pan over medium flame.

Add some of the dough to a cone shaped jangiri cloth with a small nozzle. You can also find readymade jangiri cones in the market these days.

Gently press over the hot ghee to a jangiri shape and cook till done on both sides.

Ensure the jangiri is not crisp.

Remove and put it in the sugar syrup.

Allow it to soak for a minute or two.

Remove and transfer to a plate.

Serve.
Some tips on making Jangiris
Ground batter should be very, very light – preferably ground in the grinder and not the mixi. Drop a spoonful of batter into a bowl of water, it should float and not sink.
Oil for frying should be of medium heat. If oil gets a little too hot, remove kadai from the fire, then fry the jangiris on reduced heat.
Jangiris should be made immediately after grinding as the batter gets sour very quickly. To keep the batter cool, put it into a bowl of water and use when required.
Sugar syrup should be just right – otherwise the jangiris will not soak properly. It should be thicker than the syrup for Gulab Jamun. The syrup should be thick and sticky and should form a half-string consistency, that is, the syrup when tested between two fingers should form a string of 1/2 " which should break immediately.
If the syrup has become extra thick and has cooled off, sprinkle some water and warm up the syrup a little before immersing the jangiri.
Allow the jangiri to be in the syrup till the next batch is fried. Then, remove the soaked ones onto a plate and stack them – this way, the extra sugar will drip. Put the freshly fried ones into the syrup.
Jangiri should be deep-fried. Also, it should be fried just right, the colour should not change and it should not be too crisp.