This delicious homemade Chocolate Brownie Cake is a must for all chocolate lovers. Perfect as a dessert after a scrumptious meal, this cake is perfect for both adults and children.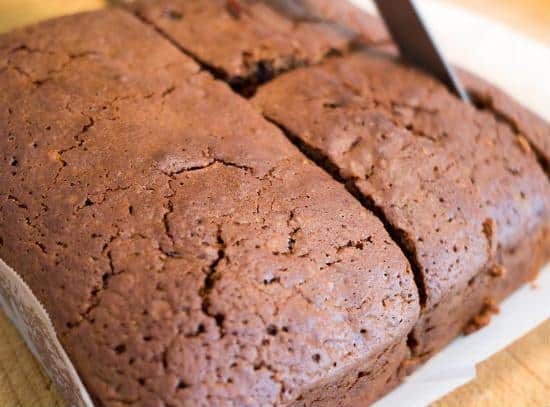 Ingredients:
Brown Sugar – 150 gms
Butter – 200 gms
Caster Sugar – 350 gms
Golden Syrup – 2 tblsp (see note at the end)
Eggs – 4
Chocolate – 250 gms
Maida (Plain Flour) – 200 gms
Baking Powder – 1 tsp
Cocoa Powder – 1/4 cup
Vanilla Essence (or Vanilla Extract) – 2 tsp
Optional:
Walnuts/Almonds – handful, chopped
Method:
1. Heat a pan over low flame.
2. Add the butter, caster sugar, brown sugar, golden syrup and chocolate.
3. Stir gently until chocolate has fully and sugar has fully melted.
4. When the mixture is smooth and lump-free, remove the pan from the flame.
5. Break the eggs in a bowl and whisk until light and frothy.
6. Add the beaten eggs, vanilla extract, flour, baking powder and cocoa powder to the chocolate mixture.
7. Mix well.
8. Pour this into a greased cake tin lined with parchment paper.
9. Place it into a preheated oven at 180C/360F and bake for 30 to 40 minutes.
10. Remove and keep aside to cool for 30 minutes.
11. Cut into slices and serve with ice cream if preferred.
Tip: If desired, sprinkle some icing sugar on top before serving.
Note: If golden syrup is not available, then you can use the clear, runny type honey or corn syrup.