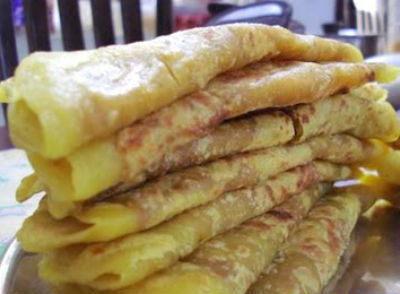 Ingredients:
Bengal Gram Dal – 2 cups, soaked in water for about two to three hours
Jaggery – 2 cups, powdered
Maida – 2 cups
Turmeric Powder – a pinch
Ghee – 10 tblsp
Coconut – 1 1/2 cups, grated
Cardamon – 4
A pinch of Salt
Method:
1. Cook the dal and drain excess water. It should be soft but not mushy.
2. Grind the dal, jaggery, coconut and cardamom to a fine paste.
3. Heat the mixture in a heavy bottomed vessel till it becomes a thick mass.
4. Make small balls. This is the sweet filling mixture.
5. Mix maida, salt and turmeric powder
6. Make a soft dough using water little by little.
7. Make small balls of the maida dough.
8. Flatten the balls on a plastic sheet
9. Place some of the sweet filling and cover it with flattened maida dough.
10. Roll into a medium sized poli.
11. Heat a tawa over medium flame.
12. Add the prepared poli.
13. Add ghee and cook till pink spot appears.
12. Serve hot poli with ghee.