Paal Kozhukattai (Milk Modak) is a traditional Pillayar Chaturthi recipe of Tamil Nadu. Some make this using regular milk also. This variation does not have any filling and is made using coconut milk, rice flour and jaggery. This is also called as Thengapaal Kozhukattai (Coconut Milk Kozhukattai) as coconut milk is used.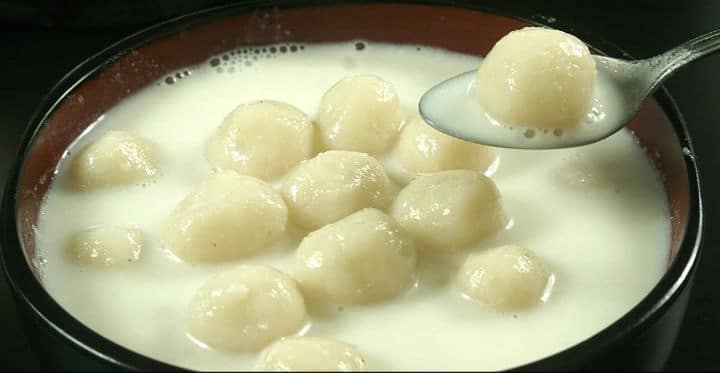 Ingredients:
Rice Flour – 1/2 cup
Salt – 1/2 tsp
Water – As Required
Thick Coconut Milk – 1/2 cup
Thin Coconut Milk – 1 cup
Cardamom Powder – 1/2 tsp
Ghee – 1 tblsp
Sugar – 1/4 cup / or as required
Method:
Take a bowl, add the rice flour and salt together.
Add hot water gradually and knead them to a dough.
Apply ghee around and cover it for a while.
Take small portions from it and form into tiny balls.
Repeat for the remaining dough.
Heat a pan under medium flame.
Add the thin coconut milk and boil it.
When it starts to boil, gradually add the prepared kozhukattai balls one by one.
Do not add it once.
Allow them to boil for 5 minutes.
Add the sugar, cardamom powder and gently mix it.
Remove from flame and add the thick coconut milk and mix it.
Serve them warm.