What can be a better remedy to the scorching summer heat than a delicious, sweet, milky and satiating kulfi! In India, various types of kulfi are popular such as Mango-Cardamom kulfi, Kesar-pista kulfi, paan flavored kulfi, malai kulfi, etc.
Badam Kulfi, a popular kulfi made from milk and almonds is well-known for its rich flavor and creamy texture. You can also see street vendors and ice cream shops selling Badam kulfis and it is easy to make at home as well.
Moreover, the ones we make in the home are more healthy, nutritious and fresh as compared to the readymade kulfis which could have been made days before we consume them. The key ingredient in a Badam Kulfi is the Badam (Almond) which needs to be blanched, peeled and crushed into pieces before using. You can also use some of the almond and pistachio pieces for garnishing.
Saffron and cream add a special flavor and texture to this recipe which can be a tempting treat for your family members after every meal. Also, wholesome goodness of milk, cream, and almonds give a good nutrition value to this delicacy.
Kulfis, also known as Indian ice-creams were originated in the Indian subcontinent a few centuries ago and are still readily available in restaurants and ice cream parlors. A kulfi is nothing but a more condensed form of ice cream and it is creamier as well. It does not melt easily as compared to an ice-cream as it is not whipped at all.
It was probably invented during the regime of Mughal Empire when a mixture of evaporated milk flavored with nuts was stuffed in metal cones. After that, these metal cones were kept under crushed ice pieces until they become solid. Some of the records of the Mughal era also mention the use of Himalayan ice and other substances such as saltpeter that were used while refrigerating these kulfis. As a result, kulfis are a rich combination of taste and tradition!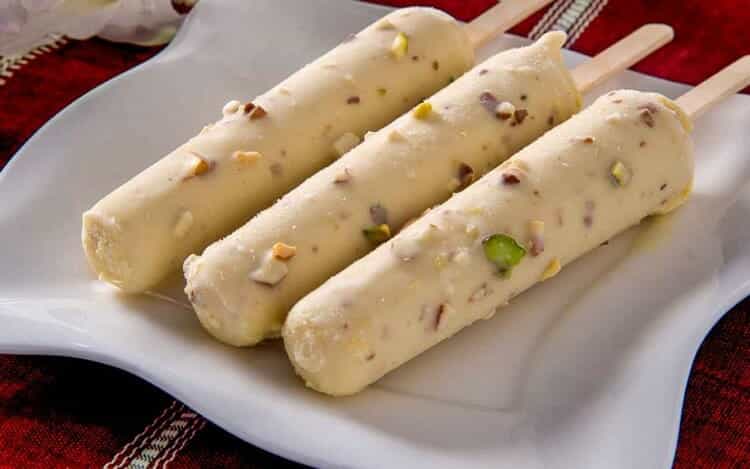 Badam Kulfi

Recipe

Badam Kulfi, a popular kulfi made from milk and almonds is well-known for its rich flavor and creamy texture.
Ingredients for
Badam Kulfi
2

cups

Almonds

blanched, peeled, ground

7 - 8

tblsp

Cream

2

cups

Condensed Milk

1/4

tsp

Saffron Strands

dissolved in 1 tblsp warm milk

1/2

cup

Milk

few

Pistachios

few

Almonds

blanched, peeled, for garnish
How to make
Badam Kulfi
Whisk together the ground almonds, cream and condensed milk in a large bowl until thick.

Bring the milk to a boil and add the saffron strands.

Mix well and remove to cool.

Then add to the almond mixture and mix well until combined. It should be creamy and thick.

Dry roast the pistachios and almonds and coarsely chop them.

Add them to the kulfi mixture, reserving some for garnish.

Mix well and pour into kulfi moulds.

Cover the top with a lid (if available) or with butter paper.

Keep them in the freezer for 4 hours or until set.

Remove the kulfi from the mould and sprinkle some of the reserved nuts.