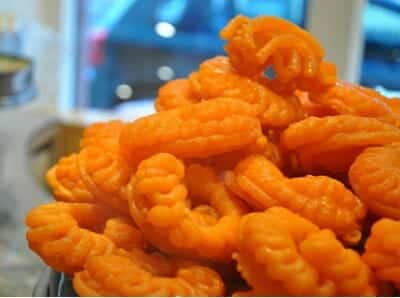 Ingredients:
Whole Urad Dal – 200 gms
Sugar – 200 gms
Paneer – 100 gms, grated
Raw Rice – 1 tsp
Cardamom Essence – 2 drops
Kesari Powder (or) Edible Food Colour – as required
Ghee – 100 gms
Oil – 200 ml
Method:
1. Soak the rice and dal together for 30 minutes.
2. Add food colour and little water to the sugar.
3. Place it over medium flame and bring to a boil till it reaches a 1 1/2 string consistency.
4. Add cardamom essence and mix well.
5. Grind the rice and dal to a thick paste.
6. Add little food clour and mix.
7. Heat ghee and oil in a pan.
8. Fill up an empty plastic cover with the dough and cut a small nozzle at the end.
9. Squeeze the plastic over the hot oil/ghee in a spiral motion to make small/medium jangiris.
10. Fry till golden and immediately drop them in the sugar syrup.
11. After a minute, remove and transfer them to a plate.
12. Sprinkle grated paneer on top.
13. Serve.