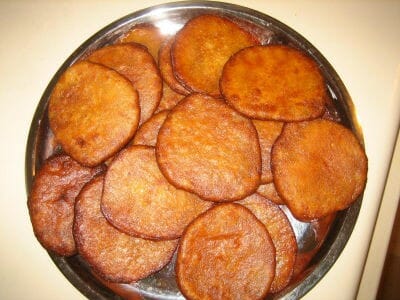 Ingredients:
Raw Rice Flour – 1 1/2 cups
Jaggery – 2 cups, powdered
Cardamom Powder – little
Kopra – 4 tsp, grated
Oil as required
Method:
1. Combine the flour, cardamom powder and kopra in a bowl.
2. Mix well.
3. Add 1 cup of water to jaggery and bring to a boil.
4. Strain and bring to a boil again.
5. Remove from flame and add the rice flour mixturee.
6. Stir well and cover with a lid.
7. Keep aside for 8 hours or overnight.
8. Make small balls of the mixture.
9. Using a cleaned banana leaf or plastic sheet, flatten the balls to a small puri.
10. Heat oil in a deep frying pan.
11. Deep fry the prepard adhirasams till golden brown.
12. Remove and drain excess oil.
13. If needed, press the back of a spoon on the adhirasams to remove some more oil that might have been absorbed.
14. Serve.
Note: image is for illustration purposes only and not that of the actual recipe.