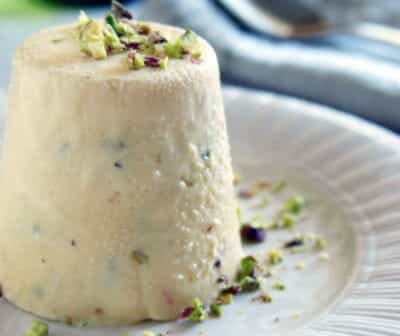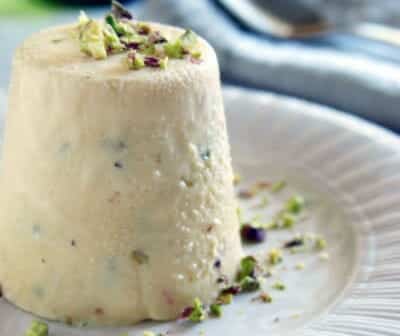 Ingredients:
Skim Milk – 2 litres
Malai (Cream) – 1 cup
Sugar – 300 gms
Almonds – 50 gms
Pistachios – 50 gms
Cashew Nuts – 50 gms
Yellow Food Colour (or Saffron Strands) – few drops
Kulfi Essence (or Powdered Cardamoms) – 1 tsp
Ice Cream Sticks – few
Kulfi Moulds – few, greased
Corn Flour – 1 1/2 tblsp, mixed with a little boiled and cooled milk
Method:
1. Bring the milk to a boil.
2. Add sugar and stir well until the milk starts to thicken.
3. Add the corn flour mixture and stir well.
4. Grind together the almonds, pistachios and cashewnuts coarsely.
5. Add to the milk and mix.
6. Switch off the flame and remove.
7. Add kulfi essence, malai and food colour.
8. Stir gently.
9. Pour into the greased kulfi moulds and keep it in the freezer.
10. When it is half set, insert the ice cream sticks and keep it in the freezer until fully set.
11. Serve.