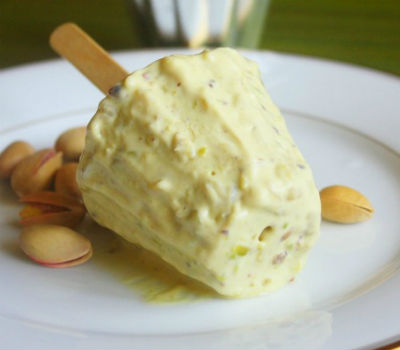 Ingredients:
Rice Flour – 1/2 tblsp
Whole Milk – 3 cups
Heavy Cream – 1/2 cup
Sugar – 2 to 3 tblsp
Cardamom Powder – 1/4 tsp
Mango Puree – 1/2 cup, unsweetened (you can use readymade canned puree or if it is mango season, then remove the skins, dice the flesh and grind to a thick puree)
Pistachios – 1/4 cup, chopped
Method:
1. Mix cream, milk and rice flour in a pan.
2. Whisk until smooth and bring to a slow boil, stirring all the time.
3. Ensure the milk does not get burnt.
4. Reduce heat to low and cook for another 30 minutes until thick.
5. Keep stirring from time to time.
6. Remove from flame and add sugar and cardamom powder.
7. Mix well and keep aside to cool for 20 to 30 minutes.
8. Add the mango puree and pistachios.
9. Then pour this into kulfi moulds (if available) or into small cups.
10. Cover and freeze them for 8 to 12 hours.
11. Serve.