A delicious and healthy sweet made with Foxtail millet flour. Thinai (or Foxtail millet) is rich in carbohydrates, dietary fiber and reduces cholesterol levels.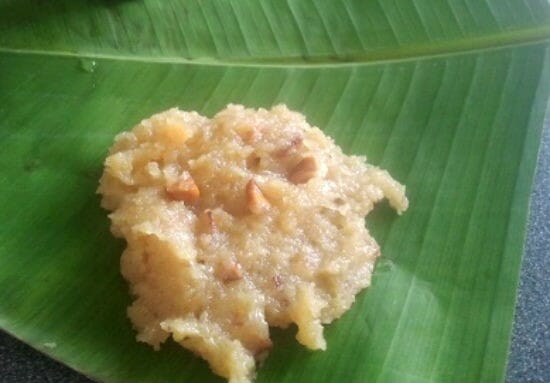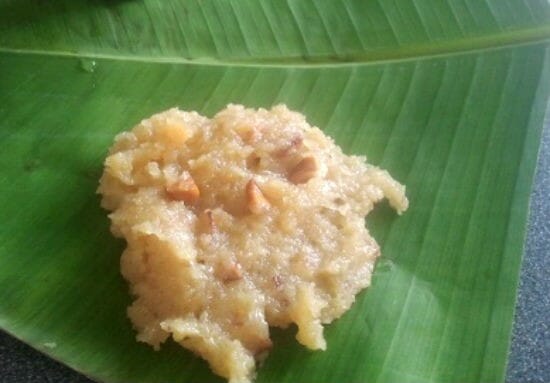 Ingredients:
Thinai Flour (Foxtail Millet Flour) – 2 cups
Unsweetened Khoya – 1 cup
Ghee – 1/2 cup
Milk – 1/2 cup
Jaggery – 2 cups, powdered
Cashew Nuts – few
Raisins – few
Method:
1. Heat 2 tsp ghee in a pan.
2. Add the thinai flour and stir well for 2 minutes or until aromatic. Remove from flame.
3. Add enough water to jaggery and stir well until fully dissolved.
4. Strain well.
5. In a separate frying pan, add 1 tsp of ghee and fry the cashew nuts and raisins. Remove and keep aside.
6. Add the thinai flour to milk and transfer to a heavy-bottomed pan.
7. Place it over medium flame.
8. When it has reduced to half, add the khoya and stir well.
9. Add the jaggery water and mix well continuously.
10. Gradually add the ghee and mix well.
11. Add the fried cashew nuts and raisins.
12. When it starts to leave the sides of the pan and does not stick to fingers, remove from flame.
13. Serve.