Malai Kofta Curry is a rich and creamy Punjabi side dish gravy. There are numerous variations to this curry. Notably, the restaurant version of this Malai Kofta Curry contains tomato puree. Without tomato puree, the gravy would be white in colour. With the addition of tomato puree, the gravy will have a dark orange (sometimes red) colour.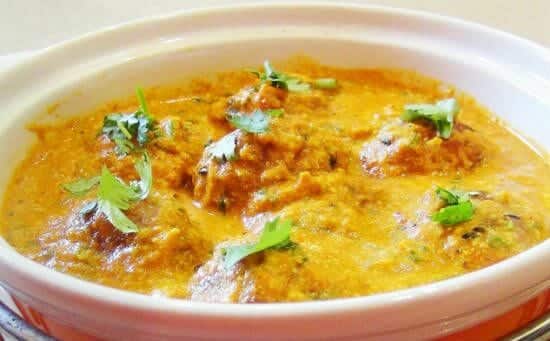 Ingredients:
Paneer – 100 gms, grated
Potatoes – 100, boiled, peeled
Coriander Leaves – few
Red Chilli Powder – little
Garam Masala Powder – 2 tsp
Ginger Garlic Paste – 3 to 4 tblsp
Fresh Cream – 100 ml + little for garnish
Cashew Nuts – 100 gms
Tomatoes – 3 to 4 (optional), blanched, peeled
Onions – 200 gms
Corn Flour – 3 tblsp
Green Chillies – 3 to 4, chopped
Oil as required
Ghee as required
Salt as per taste
Method:
1. Combine the paneer, potatoes, coriander leaves and red chilli powder in a large bowl.
2. Add salt to taste and mix well.
3. Make lemon sized balls of the mixture.
4. Heat oil for deep frying over medium flame.
5. Roll the paneer balls in cornflour and deep fry until golden brown.
6. Remove and drain excess oil.
7. Keep aside in a serving bowl.
8. Boil the onions, cashew nuts and green chillies in some water.
9. Drain well and grind to a paste with tomatoes (if using).
10. Heat ghee in a pan.
11. Add ginger garlic paste, onion cashew paste and stir well.
12. When the ghee starts to separate add 100 ml of water, garam masala powder, fresh cream and salt.
13. Mix well and cook for a few minutes.
14. Pour this over the koftas.
15. Garnish with a dollop of fresh cream and coriander leaves.
16. Serve.
image via YouTube