An iconic dish from the Southern city of Chennai (Madras).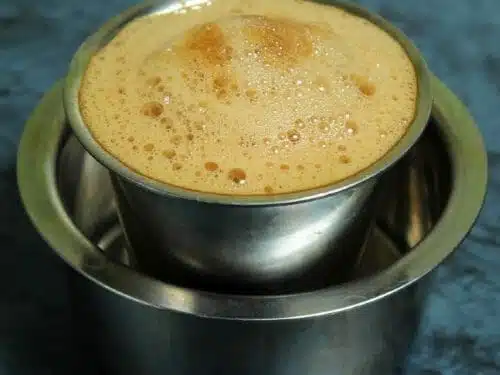 Filter Coffee is one of the iconic beverages in Madras (now called Chennai). An aromatic and refreshing drink to start your day, Chennai's filter coffee culture is world famous, especially with the brahmin communities. There are many people who cannot start their day with a cup of filter coffee and The Hindu newspaper.  Almost every household has a family recipe for this hugely popular filter kaapi (as it is also known as).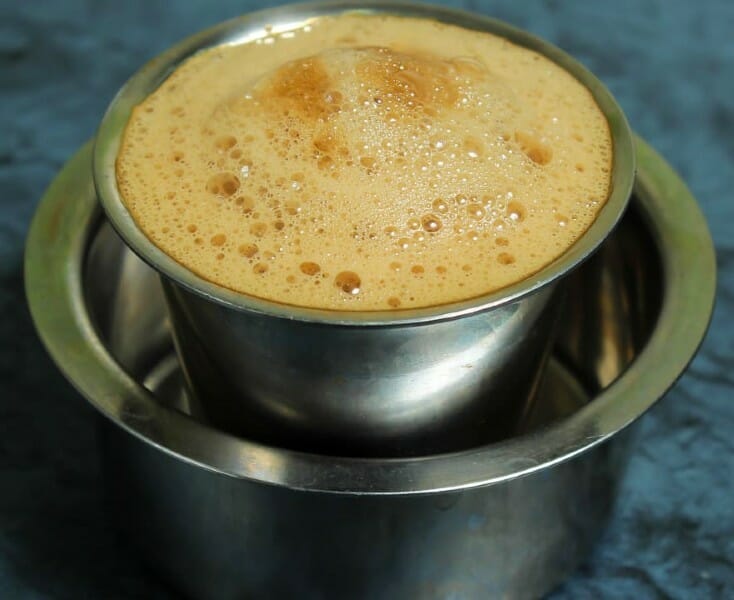 In most homes, people use a traditional coffee filter with two containers – one to put the powder and second where the decoction is collected. The traditional way of serving the coffee is via dabara set (one small tumbler with a small container). This recipe of Madras Filter Coffee uses the traditional coffee filter, however if you have a coffee machine you are free to use that. Do remember, the ingredients for the coffee is the same but the manner in which it is made along with the proportions make the difference.
The South Indian filter coffee is known by various names – Kaapi, Kumbakonam Degree Coffee, Mylapore Filter Coffee, Madras Kaapi and so on..
Learn how to make best filter coffee at home with our simple recipe below.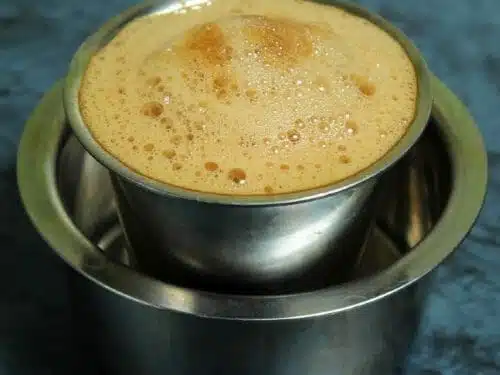 Madras Filter Coffee

Recipe

An iconic dish from the Southern city of Chennai (Madras).
Ingredients for
Madras Filter Coffee
Milk - 500 ml

standard packet

4 to 5

tbsp

Coffee Powder

Sugar as required
How to make
Madras Filter Coffee
Boil 1 cup of water over medium flame.

Add the coffee powder in the perforated container that comes on top and place it over the lower container where the coffee decoction is collected.

Place the press over it.

Pour the boiled water into the upper container, over the powder, until the rim.

Leave it to drip into the container at the bottom.

The decoction gets collected in the bottom container.

Boil fresh milk and keep it ready.

Add required sugar and coffee decoction into a tumbler/mug depending on your taste. Some will want it light while some would prefer it strong.

Pour hot milk into the tumbler/mug.

If you want some froth, pour it from a height of 1 to 1 1/2 ft.

Serve hot
Notes
In order to make the traditional filter coffee, use freshly ground coffee powder. Do not use the instant powders.