A delicious, filling and easy to make breakfast dish. Enjoy these buttermilk waffles with a choice of toppings – honey, butter, maple syrup or as desired.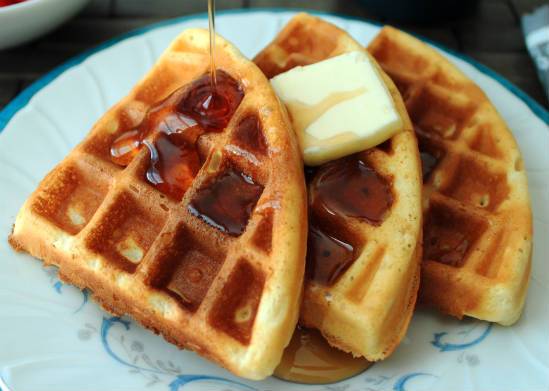 Ingredients:
Maida (Plain Flour) – 1 1/4 cups
Buttermilk – 1 cup
Butter – 2 1/2 tblsp + extra
Sugar – 1 tsp
Eggs – 2, medium, separated
Salt – 1/4 tsp
Baking Powder – 1 tsp
Cooking Soda – 1/4 tsp
Method:
1. Mix the maida, baking powder, cooking soda and salt in a bowl.
2. Whisk the egg yolks well.
3. Add the buttermilk and butter.
4. Mix well and add to the flour mixture.
5. Whisk again until it has a smooth batter consistency.
6. Beat the egg whites and sugar for a minute or two.
7. Add this to the batter and mix well.
8. Preheat a waffle maker and brush the waffle maker with little butter.
9. Pour enough batter and quickly spread.
10. Close the lid and cook for 2 to 4 minutes or until done.
11. Remove the waffle and transfer to a serving plate.
12. Serve with a choice of topping at once.
Tip: You can also prepare the batter the previous night and keep it in the fridge.