A simple and delicious Strawberry cake.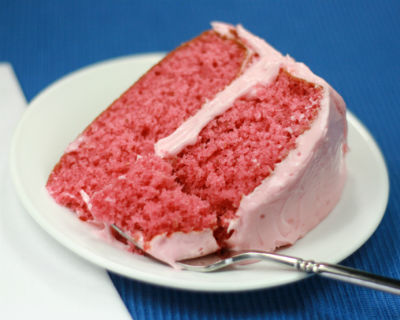 Ingredients:
Eggs – 2, large
White Cake Mix – 2 to 3 cups
Strawberry-flavoured Gelatin – 2 to 3 tblsp
Oil – 1/3 cup
Strawberries – 1/4 cup fresh or thawed if frozen
Water – 1/4 cup
For the Icing:
Butter – 1/4 cup
Icing Sugar – 1/2 cup
Strawberries – 1/2 cup fresh or thawed if frozen
Method:
1. Combine the cake mix, gelatin, oil, strawberries and water.
2. Whisk well till fluffy and combined.
3. Add the eggs, one by one, and beat well.
4. Transfer this to a greased baking pan and smoothen the top.
5. Bake in a preheated oven at 350F for 30 to 40 minutes.
6. Insert a skewer in the center and if it comes out clean, then the cake is done.
7. Remove and keep aside to cool.
8. Meanwhile, add the butter, sugar and strawberries for icicing to a blender.
9. Blend till smooth.
10. Using a toothpick or fork, poke small holes in the cakes and pour the icing over the cake.
11. Keep aside to set and cut into slices to serve.
12. Store it in a fridge, covered, for up to 2 weeks.
Tip: If desired, garnish with whole or sliced strawberries.