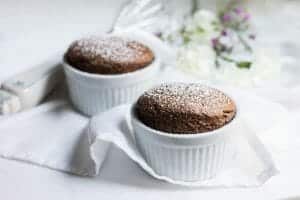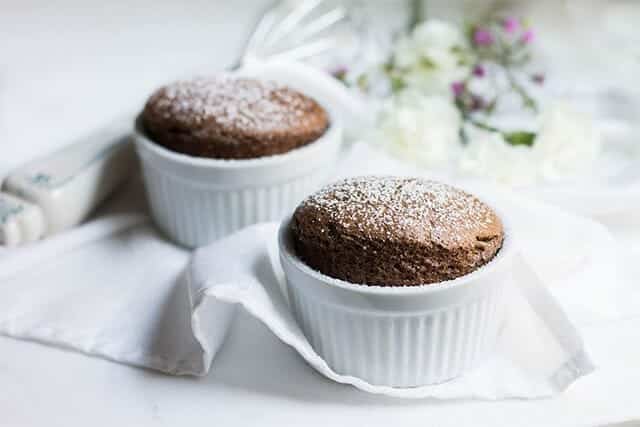 Ingredients:
Eggs – 3
Castor Sugar – 100 gms
Cocoa Powder – 4 tblsp
Vanilla Essence – 3 drops
Cold Milk – 300 ml
Gelatine Powder – 3 tsp
Hot Water – 3 tblsp
Thick Cream – 12 tblsp
For Decoration:
Thick Cream – 3 tblsp
Walnuts – 100 gms, shelled
Glace Cherries – 8
Method:
1. Prepare a souffle dish by lightly greasing the inside.
2. Cut a rectangular strip of greaseproof or brown paper that can go around the bowl.
3. Wrap it around the bowl on the outside so that it is 3 inch above the rim of bowl.
4. Tie firmly with string and set aside.
5. Separate the eggs.
6. Whisk the egg yolks until well blended.
7. Place the egg yolks in the top of a bowl which can sit in a pan containing water.
8. Keep the water hot by placing the pan over low heat.
9. Add the sugar, sifted cocoa, vanilla essence and milk to the egg yolks and whisk until the mixture is light and creamy.
10. Remove from heat and set aside.
11. Sprinkle the gelatine into a small bowl containing the hot water.
12. Place the bowl over a larger bowl containing hot water and shake it occasionally until the gelatine dissolves.
13. Stir it into the custard and set aside until cool.
14. Blend in the cream.
15. Whisk the egg whites in a bowl until stiff peaks form when the whisk is lifted out.
16. Gently fold the egg whites into the mixture.
17. Pour the mixture into the prepared souffle bowl and place it in the fridge until set.
18. When quite firm, untie the string and carefully remove the paper wrapping from around the bowl.
19. Decorate the souffle around the edges with the cream.
20. Sprinkle with chopped nuts and halved glace cherries and chill until ready to serve.