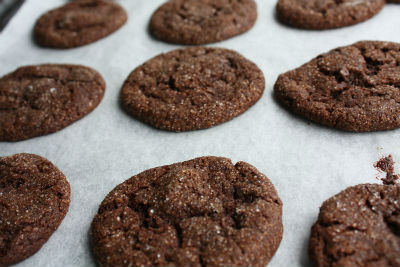 Ingredients:
Milk – 1 tblsp
Sugar – 1/4 cup
Butter – 3 tblsp, unsalted
Vanilla Essence – 1/2 tblsp
Maida – 1/2 cup
Cocoa Powder – 2 tblsp, unsweetened
Ginger Powder – 1 tsp
Cinnamon Powder – 1/2 tsp
Baking Powder – 1/8 tsp
Clove Powder – 1/2 tsp
Salt as per taste
Method:
1. Combine the butter and sugar in a large bowl and whisk till light and fluffy.
2. Add the milk and vanilla.
3. Mix to combine well.
4. Now sift the maida, cocoa powder, ginger powder, cinnamon powder, clove powder, baking powder and salt into another bowl.
5. Gradually add this to the butter mixture and mix till well combined.
6. Make 1/2 to 1 inch balls of the dough and place them on an ungreased baking sheet.
7. Flatten them into round circles and bake in a preheated oven at 350F for 8 to 12 minutes or until cooked.
8. Remove and allow to cool before removing from the baking tray.
9. Cool completely before storing in an airtight container.
image credit: transplanted baker