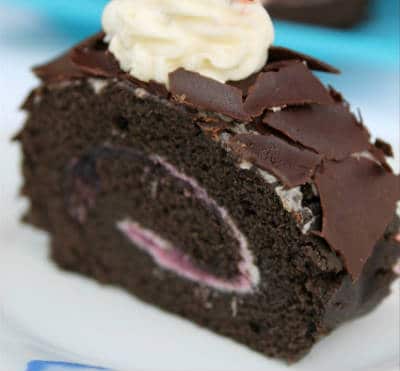 Ingredients:
Maida (Plain Flour) – 1 1/2 cups
Cocoa Powder – 1/2 cup, unsweetened
Eggs – 6
Baking Powder – 2 tsp
Granulated Sugar – 2 cups
Vanilla Extract – 2 tsp
Salt – 1/2 tsp
Water – 2/3 cup
Whipped Cream – 1 cup, frozen, for topping
Icing Sugar as required
Chocolate Chips for garnish
Blueberry Jam or Strawberry Jam for filling
Glazed Cherries – few, chopped
Method:
1. Mix the flour, cocoa powder, baking powder and salt in a large bowl.
2. In a separate bowl, beat the eggs and sugar.
3. Gently add the vanilla extract and water.
4. Beat until well blended.
5. Add the flour mixture and mix until smooth.
6. Transfer onto a greased baking sheet lined with foil.
7. Place it in a preheated oven at 375F/180C and bake for 10 to 15 minutes.
8. Insert a skewer or a toothpick in the center and if it comes out clean, the cake is done.
9. Sprinkle the icing sugar on a clean white napkin and invert the cake onto it.
10. While still hot, remove the foil and roll up the cake.
11. Keep aside to cool.
12. While it is still warm, unroll the cake and remove the napkin.
13. Spread the blueberry jam on top and roll it up again.
14. After 2 to 3 minutes, transfer to a serving plate.
15. Add the whipped cream. Sprinkle the chocolate chips and glazed cherries on top.
16. Cover and keep it in the fridge for 60 to 90 minutes.
17. Slice and serve.