A healthy, spicy and delicious wrap with cooked chicken breasts, avocado with a choice of optional vegetables. Makes for a great lunch-time dish.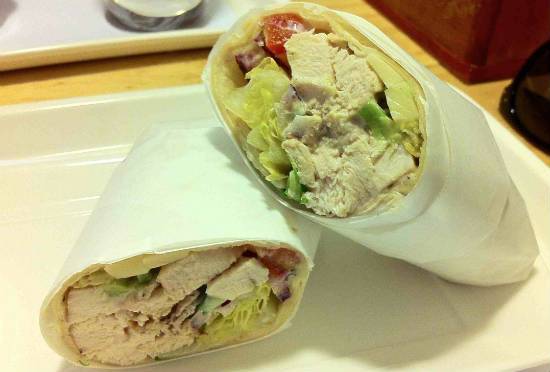 Ingredients:
Chicken Breast – 150 gms, half cooked, sliced
Lime Juice – 3 to 4 tsp
Chilli Powder – 1/4 tsp
Garlic – 1 clove, finely chopped
Tortillas – 2, medium (you can also leftover/fresh chapatis or rotis)
Avocado – 1, medium, halved, stoned, chopped
Red Capsicum – 1, small, sliced
Coriander Leaves – few, chopped
Oil as required
Salt as per taste (if required)
Black Pepper Powder as per taste
Optional Ingredients:
Lettuce Leaves – handful, chopped
Tomatoes – 1/4 cup, chopped, seeds removed
Red Onions – 1/4 cup, chopped
Mayonnaise or Greek Yogurt – optional, to spread
Method:
1. Combine the chicken pieces with the lime juice, garlic and chilli powder.
2. Heat little oil in a pan.
3. Add the chicken pieces and cook for 2 to 3 minutes.
4. Warm the tortillas as per packet instructions.
5. Add the lettuce, if using and divide the avocados between the two tortillas. Top up with the tomatoes and onions, if using.
6. Add the capsicum to the chicken pieces and switch off the flame.
7. After 30 seconds, spoon over the chicken mixture onto the wraps.
8. Garnish with coriander leaves, pepper powder and roll tightly.
9. Cut in half and serve at once.