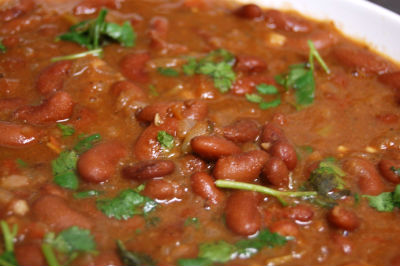 Ingredients:
Red Kidney Beans (Rajma) – 1 cup, washed, soaked for 5 hours
Onions – 1 1/2 cups, chopped, ground
Ginger Garlic Paste – 1 tblsp
Garam Masala Powder – 1 tsp
Cumin Seeds – 1/2 tblsp, dry roasted
Tomatoes – 1 cup, finely chopped
Turmeric Powder – 1/2 tsp
Coriander Seeds – 1 tblsp, powdered
Red Chilli Powder – 1 tsp
Green Chillies – 2
Oil – 1/4 cup
Coriander Leaves – 1 tblsp, chopped
Salt as per taste
Method:
1. Combine and grind the onions, ginger garlic paste and garam masala powder.
2. Drain the rajma and cook till tender adding fresh water.
3. Strain and reserve the water and keep the rajma aside.
4. Heat oil in a pan.
5. Add the ground onion paste and stir-fry for a minute.
6. Add the chopped tomatoes, salt, turmeric, coriander powder, red chilli powder and stir to mix well.
7. Cook for a minute or two.
8. Add the rajma and green chillies.
9. Increase flame to high and pour 4 cups of the reserved water (add more water if required).
10. Bring to a boil and simmer on medium flame for about 10 minutes.
11. Transfer to a serving dish.
12. Serve hot with rice, roti or naan.