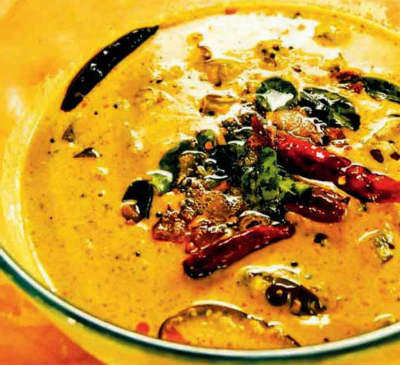 Ingredients:
Mango Puree – 1/2 cup ripe or pulpy mango + 1/2 cup raw green mango
Curd – 3/4 cup, mixed and whisked with 3/4 cup water
Turmeric Powder – a pinch
Red Chilli Powder – a pinch
Salt as per taste
Oil – 1 tsp
Cumin Seeds – 1/4 tsp
Fenugreek Seeds – a pinch
Mustard Seeds – 1/4 tsp
Curry Leaves – few
Asafoetida Powder – a small pinch
Green Chillies – 2, small, split
Boondi – 2 tblsp
For tempering:
Oil – 1/2 tsp
Ginger – 1 tsp, julienned
Dry Red Chillies – 1, broken
Coriander Leaves 1 tsp
Boondi – 1 tsp
Method:
1. Mix the mango puree, curd, turmeric powder and red chilli powder in a bowl.
2. Mix well until blended. Keep aside.
3. Heat oil in pan.
4. Add the curry powder, asafoetida powder, gren chillies, mustard seeds, fenugreek seeds and cumin seeds.
5. Fry for a minute or two.
6. Reduce flame and add the mango puree mixture.
7. Keep stirring regularly and sprinkle salt.
8. Cook for 15 minutes on low flame and add the boondi.
9. Simmer for a few minutes till cooked and oil floats to the surface.
10. Transfer to a serving bowl.
11. Heat oil for tempering in a frying pan.
12. Fry the tempering ingredients for a minute and pour into the kadhi.
13. Serve hot.
image credit: mid-day.com