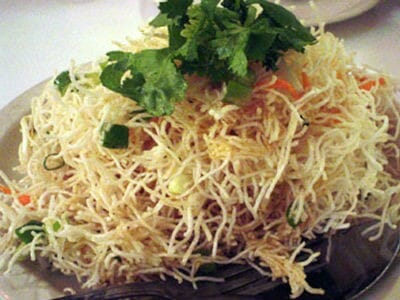 Ingredients:
Plain Noodles – 2 packets
Cabbage – 1/2 cup, chopped or grated
Carrot – 1/2 cup, finely chopped or sliced or grated
Capsicums – 1/2 cup, sliced
Beans – 1 cup, chopped
Spring Onions – 3/4 cup, chopped
Garlic – 1 tblsp, finely chopped
Chilli Sauce – little
Tomato Sauce – little (optional)
Monosodium glutamate (MSG) (or Chinese Salt) – a pinch
Salt as per taste
Pepper Powder as per taste
Sugar as per taste
Lemon Juice as required
Peanuts – few, to garnish
Oil as required
Coriander Leaves – few, chopped
Method:
1. Add a little salt and oil to the noodles.
2. Add them to boiling hot water and cook for a minute.
3. Remove and drain well.
4. Now refresh under cold running water and keep aside.
5. Heat oil in deep frying pan.
6. Fry the noodles until crispy, in batches, and remove.
7. Drain excess oil and transfer to a plate.
8. Heat 2 tblsp oil in another pan.
9. Add the vegetables (cabbage, carrot, capsicums and beans), garlic and saute for a minute.
10. Add salt, sugar, chinese salt, pepper powder and mix well.
11. Remove and add lemon juice.
12. Stir once and spread over the noodles.
13. Add the chilli sauce and tomato sauce on top.
14. Garnish with spring onions, coriander leaves and peanuts.
15. Serve at once.
Tip: If desired, add chopped mangoes, chickpeas and cashewnuts.
image via Shiva Fancy Snacks