This simple, protein rich pasta dish is a delicious and great lunchtime dish for weekdays or weekends.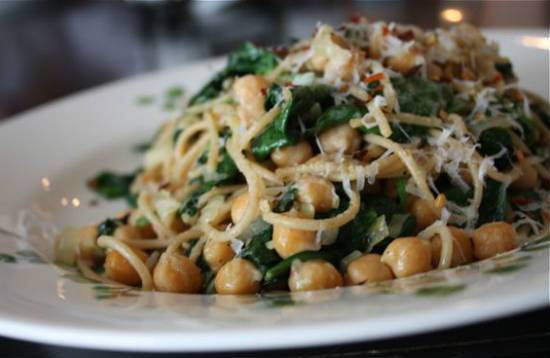 Ingredients:
Penne (or Spaghetti) – 200 gms
Chickpeas – 400 gms, soaked in slightly salted water for 8 hours or overnight
Vegetable Stock (or Water) – 1/4 cup
Spinach Leaves – 50 gms, chopped
Extra-Virgin Olive Oil – 3 tsp
Onion – 1, cut into thin wedges
Garic – 1 clove, crushed
Cumin Powder – 1 tsp
Red Chilli Powder – 1 tsp
Parsley – 1 tblsp, chopped
Parmesan Cheese – little, grated, to serve (optional)
Method:
1. Cook the pasta as per packet instructions and keep aside warm.
2. Heat olive oil in a pan over medium flame.
3. Saute the onions for 3 to 4 minutes.
4. Add the cumin powder, chilli powder and garlic.
5. Stir-fry for another minute.
6. Drain the chickpeas and add to the pan.
7. Cook for 2 minutes.
8. Lightly crush the chickpeas and add the spinach leaves.
9. Pour the vegetable stock (or water) and add salt.
10. Mix well and cook for 2 to 3 minutes.
11. Add the pasta and parsley.
12. Stir well and cook for a minute more.
13. Garnish with cheese and serve at once.